Random
Young girl who's best friends with African wildlife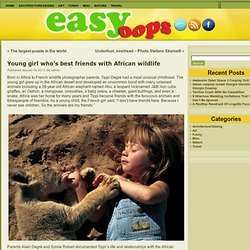 Born in Africa to French wildlife photographer parents, Tippi Degré had a most unusual childhood. The young girl grew up in the African desert and developed an uncommon bond with many untamed animals including a 28-year old African elephant named Abu, a leopard nicknamed J&B, lion cubs, giraffes, an Ostrich, a mongoose, crocodiles, a baby zebra, a cheetah, giant bullfrogs, and even a snake. Africa was her home for many years and Tippi became friends with the ferocious animals and tribespeople of Namibia. As a young child, the French girl said, "I don't have friends here. Because I never see children. So the animals are my friends."
Tarot Card Meanings
Write rhymes.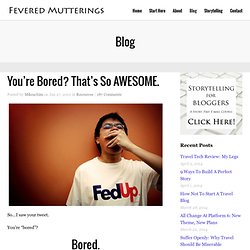 You're Bored? Are You Kidding Me?
So…I saw your tweet. You're "bored"? I am…absolutely floored.
27 Completely Unexplainable Dating Site Pictures
The Bureau of Communication - Fill-in-the-blank Correspondence
Too Cute! Kittens
Texter
YouTube Compilation of the Day
Women's
The magic button — Make Everything OK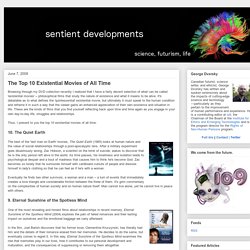 The Top 10 Existential Movies of All Time
Browsing through my DVD collection recently I realized that I have a fairly decent selection of what can be called 'existential movies' -- philosophical films that study the nature of existence and what it means to be alive. It's debatable as to what defines the 'quintessential' existential movie, but ultimately it must speak to the human condition and reframe it in such a way that the viewer gains an enhanced appreciation of their own existence and situation in life. These are the kinds of films that you find yourself reflecting back upon time and time again as you engage in your own day-to-day life, struggles and relationships. Thus, I present to you the top 10 existential movies of all time: 10. The Quiet Earth
Never Wet, Nano tech to the rescue.
He's No Rat, He's My Brother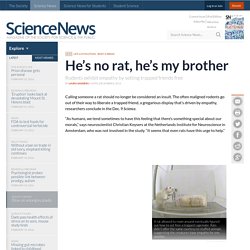 Calling someone a rat should no longer be considered an insult. The often maligned rodents go out of their way to liberate a trapped friend, a gregarious display that's driven by empathy, researchers conclude in the Dec. 9 Science. A rat allowed to roam around eventually figured out how to set free a trapped cagemate. Rats didn't offer the same courtesy to stuffed animals, suggesting the creatures have empathy for one another.
e-card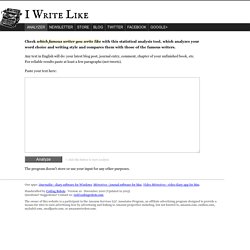 I Write Like
Check which famous writer you write like with this statistical analysis tool, which analyzes your word choice and writing style and compares them with those of the famous writers. Any text in English will do: your latest blog post, journal entry, comment, chapter of your unfinished book, etc. For reliable results paste at least a few paragraphs (not tweets). Paste your text here: The program doesn't store or use your input for any other purposes.
Hacker Typer
sleepyti.me bedtime calculator
Wem ist langweilig? - Fun Pics bei iSNiCHWAHR
"Rochere" by Sterling S. recording as (dozen) I was an ugly kid, and unfortunately, nothing's changed. Hey, maybe you know what I'm going through. Maybe you too have gotten some uncouth catcalls like "Dog-Face," "Tore Up from the Floor Up," and my personal favorite, "Two-Bagger" (which means to put two bags over your face in case one falls off. It's so thoughtful, it's almost not even cruel).
Cricket Hill Collection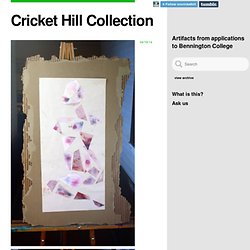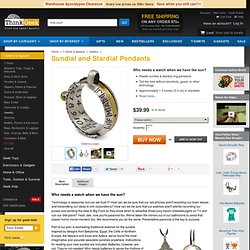 Technology is awesome, but can we trust it? How can we be sure that our cell phones aren't recording our brain waves and transmitting our ideas to evil corporations? How can we be sure that our watches aren't silently recording our pulses and sending the data to Big Food so they know when to advertise those juicy bacon cheeseburgers on TV and ruin our diet plans? Yeah, see, now you're paranoid too. We've taken the mirrors out of our bathrooms to avoid that classic horror movie moment, too. We recommend you do the same.
Sundial Ring
Sweet Home 3D is a free interior design application that helps you draw the plan of your house, arrange furniture on it and visit the results in 3D. (click on image to enlarge) You may download Sweet Home 3D to install it on your computer and/or use it online within your browser: Download Sweet Home 3D - Use Sweet Home 3D Online Sweet Home 3D is available in English, French, and 22 other languages. It may run under Windows, Mac OS X 10.4 to 10.9, Linux and Solaris.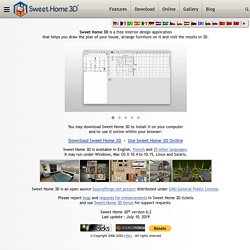 Sweet Home 3D
Companies & Reviews