Learning spanish
Spanish for Everyone - Learning Spanish Online for Free
other learning spanish pearlers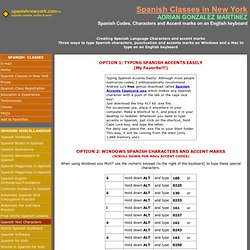 Typing Spanish Language Characters on an English keyboard.
OPTION 1: TYPING SPANISH ACCENTS EASILY (My Favorite!!!) OPTION 2: WINDOWS SPANISH CHARACTERS AND ACCENT MARKS (SCROLL DOWN FOR MACs ACCENT CODES) When using Windows you MUST use the numeric keypad (to the right of the keyboard) to type these special characters. Programming Spanish Characters and Spanish Accent Marks on Word It is also possible to program Microsoft Word to use a key such as the ALT with the letter or symbol to do the same thing.
The fun Spanish games below are for teens and adults - not for children. Spanish games suitable for children can be found at Spanish Games for Kids. Each of the games listed below can be played with various categories including adjectives, adverbs, weather, feelings, por vs para, verbs, and many more.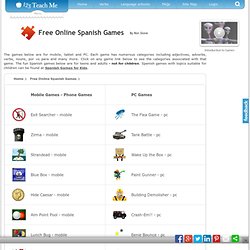 The drag and match games are good. by spinnymommy Oct 15
This is excellent for learning simple vocabulary words! (and fun too) by spinnymommy Oct 15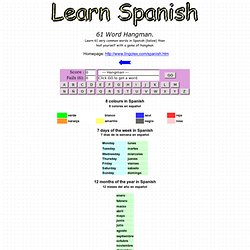 Comon Spanish words: Colours etc, with hangman game.
61 Word Hangman. Learn 61 very common words in Spanish (below) then test yourself with a game of hangman. Homepage: http://www.lingolex.com/spanish.htm 7 days of the week in Spanish 7 dias de la semana en español 12 months of the year in Spanish 12 meses del año en español 14 parts of the body in Spanish 14 partes del cuerpo en español
There are more interesting way to increase your vocabulary than reading the dictionary or studying word lists. Here are some games and puzzles designed to boost your word knowledge. Two-Letter WordsIf you play games such as Scrabble, Wordfeud or Apalabrados (Angry Birds) in Spanish, you'll appreciate this list of two-letter words, complete with definitions. 'El Ahorcado' (Hangman)Each of the games in this collection will display a new word each time you play. Words of Love: Word Search for LoversThis word-find puzzle is a fun way to learn some of the Spanish words relating to love.
Games and Puzzles for Boosting Your Spanish Vocabulary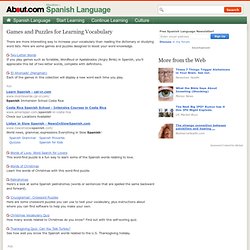 'Prohibited' in Spanish Tuesday January 7, 2014 The English word "prohibit" has a fairly formal usage and usually suggests some sort of official or specific ban on an activity. But the Spanish cognate, prohibir, has a wider range of uses, as explained in our lesson on using prohibir.
Spanish Language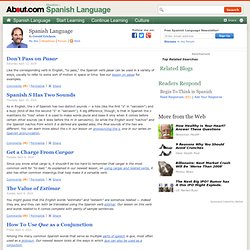 Question: I am a 56-year-old guy that is dedicated to learning Spanish. I started 7 months ago using the Barrons FSI course and am on lesson 14. My question is: Because of my age, is it tougher to pick up a new language?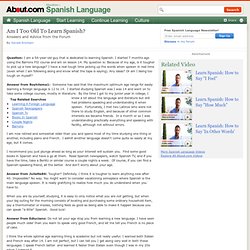 Am I Too Old To Learn Spanish? - Tips for the Young at Heart
Translation of the verb and a full conjugation for all verb tenses