Google
14 Great Google Desktop Applications that You Need to Know
Apps 14 Great Google Desktop Applications that You Need to Know While Google started as a search engine, we all know that the company has grown dramatically in recent years and expanded on several levels too. Although the world is familiar with web services provided by them, it seems that many people do not actually know that Google has many programs designed for desktop use. Personally I can say that many of these programs are opened on my Desktop every day both for promotion and as utility tools too. Below we have developed a list of some of the most popular desktop applications created by Google. I'm sure you'll will enjoy it!
pearls from google3T+hacking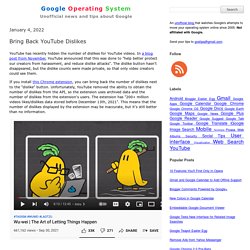 There's a new YouTube experiment that changes the video player's size, depending on the browser window's size. When resizing Chrome's window, YouTube switches from 360p to 480p and to 720p, while the player gets bigger. Here's the same video in a larger player (480p) and an almost fullscreen player (720p) on a 1080p display: Here's the regular YouTube interface. The screenshot shows a maximized Chrome window on a 1080p display, just like the previous screenshot: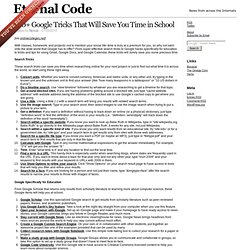 [via onlinecolleges.net] With classes, homework, and projects–not to mention your social life–time is truly at a premium for you, so why not latch onto the wide world that Google has to offer? From super-effective search tricks to Google hacks specifically for education to tricks and tips for using Gmail, Google Docs, and Google Calendar, these tricks will surely save you some precious time.
The Image Quiz
Don't limit yourself to just plugging in simple search terms to Google; check out this infographic and learn a search string search or two. You don't need to limit yourself to searching just for simple strings; Google supports all manner of handy search tricks. If you want to search just HowToGeek.com's archive of XBMC articles, for example, you can plug in site:howtogeek.com XBMC to search our site. Get More Out of Google [HackCollege via Mashable] Jason Fitzpatrick is warranty-voiding DIYer and all around geek.