Confusing words and phrases
English: England Vs America | Daily Shite
The Internet TESL Journal We speak English in the UK.So do you in the US.But yet we don't speak the same language. David BartonDept. of Geological Sciences, Durham University, South Road,Durham, United Kingdom, DH1 3LEd.j.barton [at] durham.ac.uk David Barton maintains an extensive list ofWords That Could Be Confusing And Embarrassing In The UK & USSee the complete list at http://www.systms.demon.co.uk/ukus.htm. It was said by Sir George Bernard Shaw that 'England and America are two countries separated by the same language'.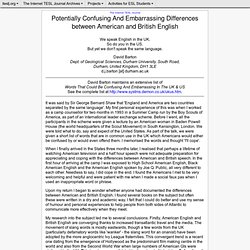 Barton-Confusing And Embarrassing Differences between American and British English
Crazy English
An Excerpt from the Introduction [Many of these are mere wordplay, but several are linguistic anomalies. One interesting thing the author doesn't note is that in English one tells a lie, but the truth. Try explaining that to a six-year-old.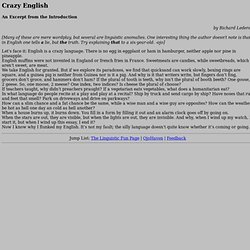 Crazy English from Beautiful Perth.
1. The bandage was wound around the wound. 2. The farm was used to produce produce. 3.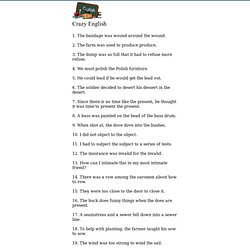 The confusion of English words that result in malapropisms and how to avoid such errors.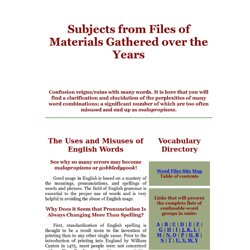 Confusion reigns/rains with many words. It is here that you will find a clarification and elucidation of the perplexities of many word combinations; a significant number of which are too often misused and end up as malapropisms . The Uses and Misuses of English Words See why so many errors may become malapropisms or gobbledygook ! Good usage in English is based on a mastery of the meanings, pronunciations, and spellings of words and phrases.