Combines search engines
Global Academic Art Blog Christian City Collaborative Conversational File Forum For Women Hobby Images Islamic Kids Literature Medical Military News Pets Property Sports Travel Video Webmaster When you click one of these Express Buttons on a country or category page, you will immediately be transferred to the first French, Spanish, or German language search engine listed on that page. "Fingers do the walking" Express Button transfers you to a country's Yellow Page Searchers' section.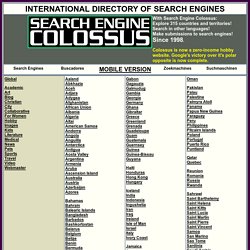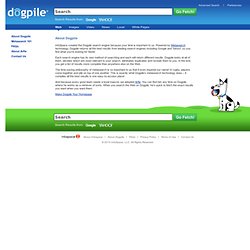 About Dogpile - How Dogpile provides the best search results from leading engines in one clean convenient search package
About Dogpile InfoSpace created the Dogpile search engine because your time is important to us. Powered by Metasearch technology, Dogpile returns all the best results from leading search engines including Google, Yahoo!
About WebCrawler - WebCrawler.com
Overview WebCrawler® brings users the top search results from Google, Yahoo! and other popular search engines. WebCrawler also provides multimedia results, including images, video, news, and local information. WebCrawler is a registered trademark of InfoSpace, Inc. What you'll find on this page: