Combines search engines
Clusty.com - Clusty Search Engine. Find search engines from across the world with Search Engine Colossus. Dogpile Web Search. About Dogpile - How Dogpile provides the best search results from leading engines in one clean convenient search package. About Dogpile InfoSpace created the Dogpile search engine because your time is important to us.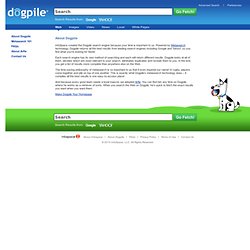 Powered by Metasearch technology, Dogpile returns all the best results from leading search engines including Google and Yahoo! WebCrawler Web Search. About WebCrawler - WebCrawler.com. Overview WebCrawler® brings users the top search results from Google, Yahoo!
And other popular search engines. WebCrawler also provides multimedia results, including images, video, news, and local information. WebCrawler is a registered trademark of InfoSpace, Inc. What you'll find on this page:
---