Chat bots
AI Series 01: Tomo game - Artificial intelligence has been born! Meet Tomo, a neat robot who loves to chat. Install or Update your Macromedia Flash Player This game requires Macromedia Flash Player, and Internet browser plug-in.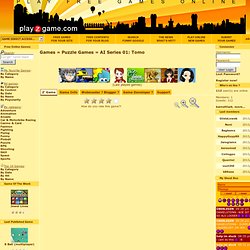 If you are unable to install this software or you need to update your version of the Macromedia Flash Player, follow the steps below. Cleverbot.com - a clever bot - speak to an AI with some Actual Intelligence? Jeeney AI. A.I. Foundation Bot Directory. Directory of Bots on the Web The following is an alphabetical listing of bots you can meet on the web.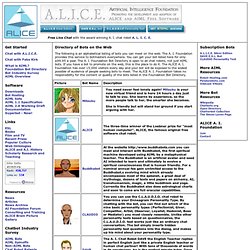 The A. I. Foundation provides this service to botmasters everywhere. You can get your bot listed here for only $99.95 a year. Yuichan Artificial Intelligent Socratic Zen Conversationalist. Chatbot, Chatbots - Artificial Intelligence. The Chatterbot Collection - Chatbots - English. Play Chat Bot 2. RRRR : Cheer Up the ChatBot. Jabberwacky - live chat bot - AI Artificial Intelligence chatbot - jabber wacky - talking robot - chatbots - chatterbot - chatterbots - jabberwocky - take a Turing Test - Loebner Prize - Chatterbox Challenge - entertainment robots, robotics, marketing, ga. 20Q.net Inc.
---