Architecture
You too can live like a Smurf While Styrofoam may be most commonly associated with disposable coffee cups, meat trays and packaging, prefab home manufacturer Japan Dome House Co., Ltd. uses it to construct easy-to-assemble modular kit homes. (Pics and video)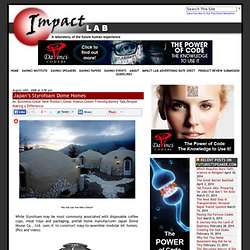 Japan's Styrofoam Dome Homes
How to build a Hobbit house We've seen a lot of people building their own houses made from all sorts of stuff and it's never boring seeing how creative people can be. This time we'll take a look at Simon Dale's hobbit house. Using only natural materials Simon built this house with his father-in-law and the help of random people who wanted to give a hand. It took 1000-1500 man hours and $5,000 from start to finish.
Architecture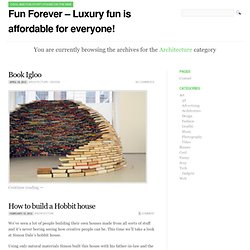 Architecture
strange and unusual buildings
How about a taxi stand that offers a waiting lounge, office space, personal cabins for drivers, lavatory, changing room, storage area, kitchen and resting area! Sounds utopia but plausible, thanks to the universal language and modern architecture incorporated. Electrical and lighting systems are assembled within the installation floor, which is hidden, between ceiling and the roof. Moreover a system is in place to collect rainwater and use it within the infrastructure. Very Impressive! Designer: Hakan Gürsu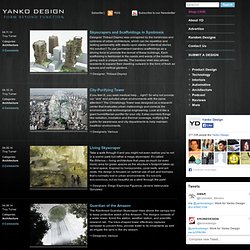 Architecture
Creative and unusual bus stop designs that make the time you spend waiting for the bus a bit more bearable. Curitiba Bus Stop Futuristic public transport bus stop in Curitiba, Brazil. [link]
15 Unusual and Creative Bus Stops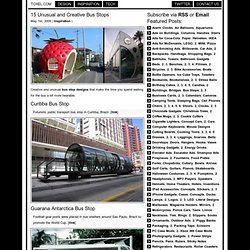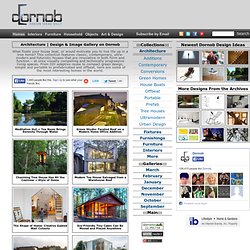 What floats your house boat, or would motivate you to live life up in a tree home? This collection features classic, contemporary, ultra-modern and futuristic houses that are innovative in both form and function – at once visually compelling and technically progressive living spaces. From DIY adaptive reuse to compact green design, simple and portable to prefabricated and offbeat, here are some of the most interesting homes in the world.