Services d'archives
ArchiSHS
2 octobre 2012 | bmuller L'Open Archival Information System (OAIS) pour l'archivage de la recherche en SHS : concepts et expériences CC-IN2P3, Amphithéâtre, Lyon, 23 et 24 octobre 2012 Dans le cadre du Réseau thématique transdisciplinaire sur les archives de la recherche, initié par la direction de l'INSH-CNRS, sous la responsabilité de Bertrand Müller, directeur de recherche, nous souhaitons examiner plus attentivement les possibilités de la norme OAIS pour l'organisation de dispositifs d'archivage numériques. Nous vous convions à participer activement à la journée organisée par le RTP ArchiSHS-CNRS, le Centre Maurice Halbwachs, le Laboratoire Parole et Langage, la MMSH d'Aix et le TGE Adonis, qui se tiendra au CC-IN2P3 à Lyon les 23 et 24 octobre 2012.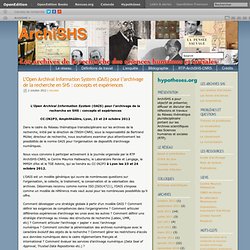 Ifremer - Archives historiques
archives de l'Universit de Haute-Alsace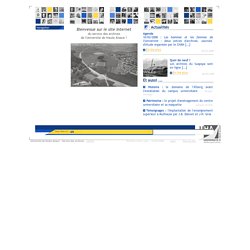 Actualités Agenda 10/03/2008 : Les hommes et les femmes de l'Université : deux siècles d'archives. Journée d'étude organisée par le CHAN [...] Quoi de neuf ?
Smithsonian Institution - Science Service Historical Image Collection
Service des Archives de l'Institut Pasteur - accueil
unesco
Mandela, UNESCO and Apartheid UNESCO Archives celebrates Nelson Mandela with a selection of items on apartheid and his words upon the receipt on the 1992 Félix Houphouët-Boigny Peace Prize. - Withdrawal of the Union of South Africa (1956): Selection of Correspondence - Withdrawal of the Union of South Africa Paragraph 3 of Director-General's 1955 report- UNESCO Courier articles: 1992 Apartheid: the Beginning of the End 1983 Racism 1977: Southern Africa at grips with racism 1967: Apartheid- Mandela's speech upon the awarding of the 1992 Félix Houphouët-Boigny Peace Prize, video of the ceremony. "UNESCO is now born", DG speeches On 12 November 2013 UNESCO's General Conference elected Irina Bokova for a second four-year term as Director-General of the Organization.