Cadeau
La cerise sur le gâteau : des objets amusants (et utile) à acheter
Carroussel des Métiers d'Art
stylos et bijoux
Réservations avec Cofrase Cabarets 7 jours / 7 : Tél. : 09 72 39 61 79 ( de l'étranger composer le 00 333 9 72 39 6179 ) 01 55 26 80 81 (pour les groupes de + de 20 personnes) Fax : 01 53 26 77 93 ( de l'étranger composer le 00 331 5326 7793 ) Email : infos@cofrase-cabarets.com Survol de Paris & Versailles en Hélicoptère Vous voulez découvrir Paris ou les jardins du Château de Versailles de manière exceptionnelle ? Avec Cofrase, réservez votre vol en hélicoptère Robinson R22 ou R44, pour 1 à 3 personnes, au départ de l'aérodrome de Saint-Cyr l'Ecole L'équipe de notre partenaire vous accueille à l'aérodrome pour un vol de 12 à 30 minutes, selon la formule choisie.
survol de Paris en hélico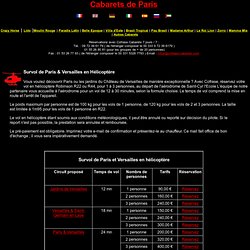 Known for our stunning creations of new, fun colour combinations each season for our core range of small leather goods, mywalit does not disappoint this season with a warm and sunny new hue called SUNBURST: a bright, brilliant palette of yellows and orange that will definitely make a statement this summer! Our fun and avant-garde designers have created a range of innovative style, daring colours, quality and modern designs. We originally concentrated on creating colourful purses and wallets and have since enriched our collections to include mutli-coloured handbags for day and evening, travel accessories, and a classic, yet unique Office Collection featuring iPad and laptop cases, and business organizers. Our bold colour combination, our attenton to detail in manufacturing and use of the finest soft nappa leathers has quickly built our reputation for quality and individual design. Follow us!
Wallet, Leather Wallet, Wallets in multicolors - Mywalit.com home page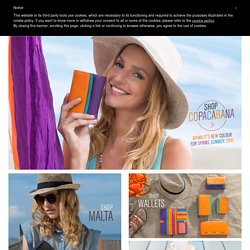 idées originales pour faire des calendriers
Unicadres, un site pour acheter des tableaux
pour personnaliser des objets d'après des photos
Plus de 80 produits à personnaliser: tee-shirt, tablier, porte clef, Badge, Tasse, Tablier, bonnet, casquette army - flexfit- , cravate, Tee shirt baseball, Polo, Tee shirt BIO, Débardeur, Sweat, Veste, Pull à capuche, Shorty, Maillot PUMA, Maillot de foot, Veste, Caleçon, Peignoir, ensemble Foot, pantalon de sport, sac, besace, housse ordinateur, Débardeur, Jupe, Cardigan, Robe dos nageur, String, top camisol, moufles, couverture bébé, bonnet, bavoir, foulard, bonnet, écharpe, bandan, vêtement de travail .... Une sélection de marques tendances: American Apparel, Trigema, Puma et Dickies et beaucoup d'autres