Rifles
Merkel: Deutsch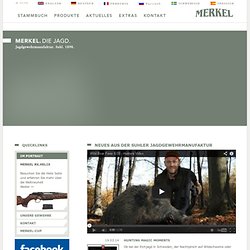 Die traditionsreiche Jagdgewehrmanufaktur Merkel und der größte deutsche Jagdausstatter FRANKONIA empfingen die bayerische Jagdkönigin Marion Lenz im thüringischen Suhl am Firmensitz von Merkel. Dort überreichten Merkel Vertriebsleiter Oliver Schmider und Frankonia Pressereferent Simon Abeln der bayerischen Jagdkönigin zwei exklusive Jagdwaffen: für die Jagd auf Schalenwild eine Merkel RX.Helix im Kaliber .308 Win., montiert mit Zielfernrohr Docter unipoint 2,5–10x50, und für die Niederwildjagd eine elegante Doppelflinte 40E im edlen Lederfutteral. Einige Päckchen Forest Blitz Schrotpatronen gab es noch obendrauf.
Sturm, Ruger & Co., Inc.
Sturm, Ruger & Co., Inc. is one of the nation's leading manufacturers of rugged, reliable firearms for the commercial sporting market. The only full-line manufacturer of American-made firearms, Ruger offers consumers over 400 variations of more than 30 product lines. From the ubiquitous 10/22® and Mini-14®, to the new and exciting SR45™, LC380®, Guide Gun, Ruger American Rifle®, SR22® and SR1911®.