Disaster management
101203 An event ontology for crisis-disaster information
AlertSite Ottawa Index
EDXL Product Directory | OASIS Emergency Interoperability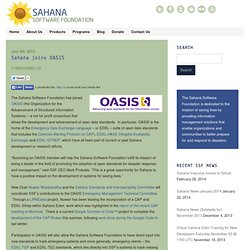 The Sahana Software Foundation has joined OASIS (the Organization for the Advancement of Structured Information Systems) – a not for profit consortium that drives the development and advancement of open data standards. In particular, OASIS is the home of the Emergency Data Exchange Language – or EDXL – suite of open data standards that includes the Common Alerting Protocol (or CAP) , EDXL-HAVE (Hospital Availability Exchange) and EDXL-SITREP , which have all been part of current or past Sahana development or research efforts. "Becoming an OASIS member will help the Sahana Software Foundation fulfill its mission of being a leader in the field of promoting the adoption of open standards for disaster response and management," said SSF CEO Mark Prutsalis. "This is a great opportunity for Sahana to have a positive impact on the development of systems for saving lives."
Sahana joins OASIS :: Sahana Software Foundation
Common Alerting Protocol (CAP) What, Why, How? The CAP: What, Why and How updated 5/19/2003 You can think of this as a mini-FAQ covering three basic questions about the CAP: "What is it?", "Why do we need it?" and "How can we get there?"
Wiki
users.on.net/~donc/sahana/sahana_draft_domain_glossary.pdf
www.bbk.bund.de/SharedDocs/Downloads/BBK/DE/Downloads/Sonstiges/deNIS_unterstuetzt_Lageerfassung_u_Bewertung.pdf?__blob=publicationFile
Deutsches Komitee Katastrophenvorsorge
Vesuvius :: Sahana Software Foundation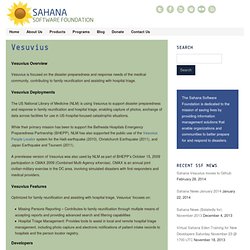 Vesuvius: Hospital Triage and Lost Person Finder Capabilities. Vesuvius Overview Vesuvius is focused on the disaster preparedness and response needs of the medical community, contributing to family reunification and assisting with hospital triage.
Sahana Eden Humanitarian Management Platform
Sahana Project Background
Humanitarian OSM Team
The mapkibera project ( mapkibera.org ) is training local people of Kibera, Nairobi to create and own their map with OpenStreetMap OpenStreetMap being used by search & rescue teams after the Haiti earthquake. The community responded rapidly creating the best map resources available. Our maps continue to be used for redevelopment planning, and H.O.T. people are currently on-the-ground in Haiti giving training in use and improvement of the data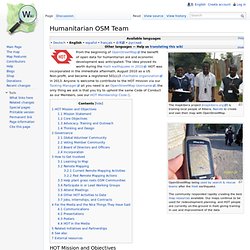 The ESA App Developer Camp
in brief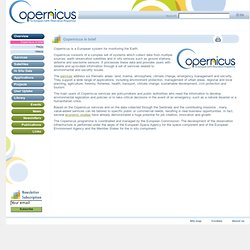 Copernicus is a European system for monitoring the Earth. Copernicus consists of a complex set of systems which collect data from multiple sources: earth observation satellites and in situ sensors such as ground stations, airborne and sea-borne sensors. It processes these data and provides users with reliable and up-to-date information through a set of services related to environmental and security issues... The services address six thematic areas: land, marine, atmosphere, climate change, emergency management and security. They support a wide range of applications, including environment protection, management of urban areas, regional and local planning, agriculture, forestry, fisheries, health, transport, climate change, sustainable development, civil protection and tourism.