ESL
ESL Music Activities. Fun Games For ESL - ESL Printable, Interactive Fun Games Pronunciation & Intonation: Teach English pronunciation using printable worksheets, IPA Charts, and more>> Speaking Activities: Using these worksheets, you can get a number of communicative activities going Reading Exercises -Printable Text Mazes, Reading Comprehension printable exercises Matching & Collocation Exercises- Printable Matching & Collocation Exercises.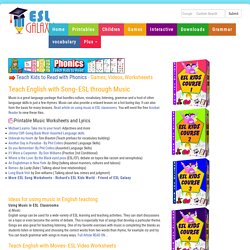 80 Journal Ideas. Learning Style Questionnaire. Writing Objectives Using Bloom's Taxonomy. Various researchers have summarized how to use Bloom's Taxonomy.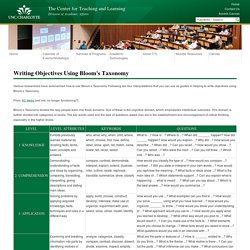 Following are four interpretations that you can use as guides in helping to write objectives using Bloom's Taxonomy. From: KC Metro [old link, no longer functioning?] Bloom's Taxonomy divides the way people learn into three domains. One of these is the cognitive domain, which emphasizes intellectual outcomes. Bloom's Wheel. Bloom's Taxonomy. Bloom's wheel, according to the Bloom's verbs and matching assessment types.
The verbs are intended to be feasible and measurable. Bloom's taxonomy is a classification of learning objectives within education. Types of Test Questions. Selecting Test Items. Reading Exercises. About the Study Zone The Study Zone is for students of the English Language Centre (ELC) at the University of Victoria.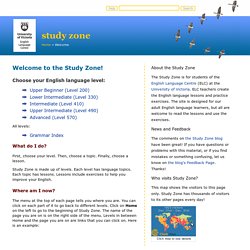 ELC teachers create the English language lessons and practice exercises. The site is designed for our adult English language learners, but all are welcome to read the lessons and use the exercises. 20 Things to Include. 100 ESL Resources. Teaching ESL requires a lot of creativity.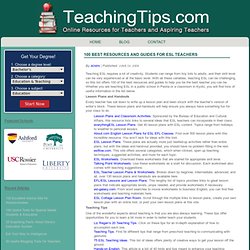 Students can range from tiny tots to adults, and their skill level can be very experienced or at the basic level. With all these variables, teaching ESL can be challenging, so this list offers 100 of the best resources and guides to help you be the best teacher you can be. 75 ESL Teaching Ideas. The Internet TESL Journal Hall Houstonallhou [at] yahoo.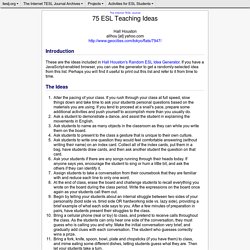 Introduction These are the ideas included in Hall Houston's Random ESL Idea Generator. Teaching Tips. ESL Cafe. Stickyball.
---