Classic games online
Asteroids
History of Asteroids Asteroids is considered by many gamers to be a true classic, a master piece.
Asteroids
Donkey Kong
Donkey Kong Game History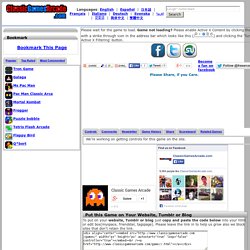 Hangman Game - Play Hangman Online
Frogger
History of: Frogger
No seas un lemming, busca tu destino - BuscoUnViaje.com - UnDiaTonto.com - Real life lemmings
Pac Man Game History
Pac Man Classic Arcade Flash Game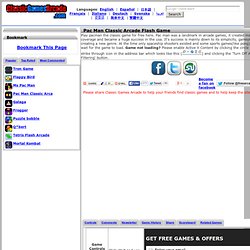 Pacman
Feedback verzenden <object classid="clsid:D27CDB6E-AE6D-11cf-96B8-444553540000" codebase="http://download.macromedia.com/pub/shockwave/cabs/flash/swflash.cab#version=6,0,40,0" type="application/x-shockwave-flash" id="thegameobject" width="360" height="420" data="http://static.funnygames.nl/games/6/56/56.swf" style="outline-width:0px;"><param name="movie" value="http://static.funnygames.nl/games/6/56/56.swf"><param name="allowScriptAccess" value="sameDomain"><param name="allowNetworking" value="internal"></object> Pacman 1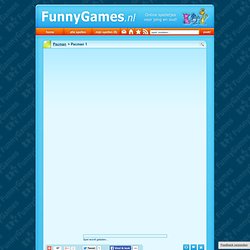 Space Invaders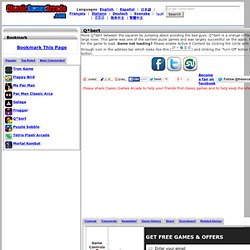 Q*bert
Q*Bert Game History I bet any avid gamer from the early 1980s can identify with Q*Bert. The small orange character with a rather long tubular nose.
I love QBert, haven't played it in years; it's great to find it here. by markspec3 Mar 8