Classic games online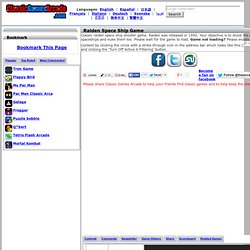 Asteroids
Raiden Game History Raiden carries on with the successful formula of the many shooters that has preceded it. It is the first game in a successful series of blasters featuring an experimental supersonic attack fighter, that has to defend earth from the invading alien hordes. The name Raiden derived from an actual Japanese fighter that was in service during the second world war. The History of Raiden First released into the arcades in 1990, developed by Seibu Kaihatsu and published by Fabtek.
Asteroids
Donkey Kong
Classic Games Arcade is a 100% free online arcade games website. We aim to bring you the best classic arcade games which you can add to your blog or website and share with your friends. We have loads of retro games from mario, galga, metal slug, sonic, street fighter 2 to pac man. All the old arcade games on this site are proven console and arcade classics. We've added a web classics section as we feel that there are some insanley popular internet classic flash games that you should have a go at playing.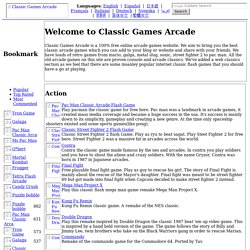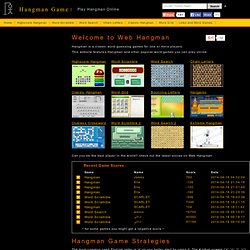 Hangman is a classic word-guessing games for one or more players. This website features Hangman and other popular word games you can play online: Can you be the best player in the world? check out the latest scores on Web Hangman: Hangman Game Strategies The most common used English letter is 'e' so you better start by using it.
Hangman Game - Play Hangman Online
Hangman
Frogger
History of: Frogger The early 1980s was a big time for video games, with the various gaming companies competing tooth and nail to release the most popular game in the arcades. In this era companies were breaking away from the norm, and the trend seemed to be the designing of what can only be called "cute" video games. The example below is no exception. Hot Dog Jumping Frog: The History of Frogger
Hexxagon
Lemmings
No seas un lemming, busca tu destino - BuscoUnViaje.com - UnDiaTonto.com - Real life lemmings
Pac Man Game History Ask anyone a question to name a video game, and I bet the majority of people will give you one answer...Pac Man. This is a game that has truly stood the test of time, a phenomenon that spawned a new breed of video gaming. Even in today's high-tech society, Pac Man is still immensely popular with teenagers and adults alike, and is continually released on a plethora of different systems.
Pac Man Classic Arcade Flash Game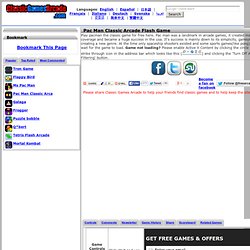 Pacman
Space Invaders
Space Invaders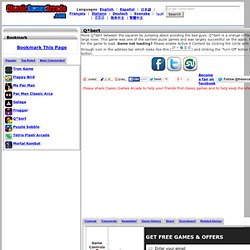 Q*bert
Q*Bert Game History I bet any avid gamer from the early 1980s can identify with Q*Bert. The small orange character with a rather long tubular nose.
Tetris