Investment
Elliott Wave International: Expert Market Forecasting using the Elliott Wave Principle
Newest Club EWI Exclusive Reports How Does a Devastating Typhoon Impact the Markets? In November, one of the strongest typhoons on record caused damage worth 2-3% to a Southeast Asian nation.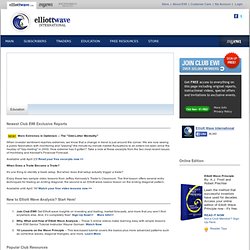 Trend Analysis
Quantum dot OLED prototype. Image credit: Nanoco Group The quantum dots will be in use for ultra thin, light flat screen TVs by the end of next year, and, in another three years, will be used in flexible screens rolled up like paper or used as wall coverings.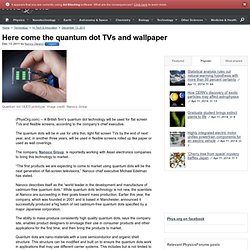 Here come the quantum dot TVs and wallpaper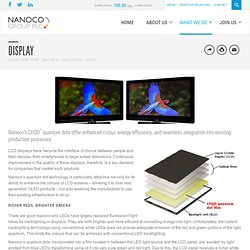 Displays
The future of cadmium free QD display technology (QD TV ™) Display technology moved on from the bulky cathode ray tube units (CRTs) to plasma screens and liquid crystal displays (LCDs) and now organic light emitting diodes (OLEDs) offer an attractive alternative to all these earlier technologies. Quantum dots (QDs) are both photo active (photoluminescent) and electro active (electroluminescent) and because of their unique physical characteristics they can be readily incorporated into OLED displays. The significant benefits OLEDs offer include: • Thinner displays: having a very thin form factor, OLED displays offer mobile device developers more opportunities to develop slimmer devices
The Globe and Mail - 2 hours ago The Toronto stock market was slightly lower Thursday morning while traders looked to U.S. job creation data coming out Friday. The S&P/TSX composite index eased 19.83 points to 13,594.8, held back by declining mining stocks as gold and copper prices ... Toronto Star - 7 hours ago PLASTER ROCK, N.B.—A preliminary investigation into the fiery train derailment in northwestern New Brunswick has found a cracked wheel and broken rail at the site but it's too early to say what caused the train to leave the tracks, a senior investigator with ...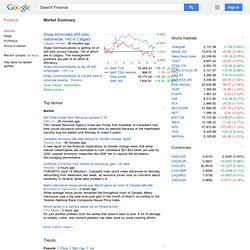 Finance: Stock market quotes, news, currency conversions & more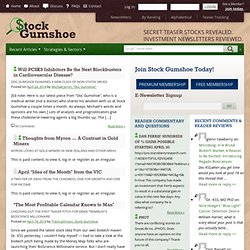 Stock Gumshoe | Secret Teaser Stocks Revealed. Investment Newsletters Reviewed.
[Ed. Note: Here is our second installment from Dr. KSS, formerly known as "karmaswimswami" in Gumshoe discussion threads. Dr. KSS has agreed to our trading and disclosure restrictions, and he's not offering you personal investment or medical advice.