Investment
Elliott Wave International: Expert Market Forecasting using the Elliott Wave Principle
Trend Analysis
Quantum dot OLED prototype. Image credit: Nanoco Group The quantum dots will be in use for ultra thin, light flat screen TVs by the end of next year, and, in another three years, will be used in flexible screens rolled up like paper or used as wall coverings.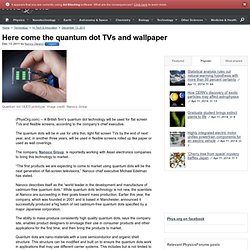 Here come the quantum dot TVs and wallpaper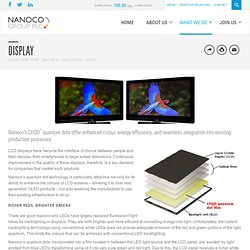 Displays
The future of cadmium free QD display technology (QD TV ™) Display technology moved on from the bulky cathode ray tube units (CRTs) to plasma screens and liquid crystal displays (LCDs) and now organic light emitting diodes (OLEDs) offer an attractive alternative to all these earlier technologies. Quantum dots (QDs) are both photo active (photoluminescent) and electro active (electroluminescent) and because of their unique physical characteristics they can be readily incorporated into OLED displays. The significant benefits OLEDs offer include:
Globe and Mail - 24 minutes ago As the cleanup of Canadian oil sands crude spewed from a ruptured Arkansas pipeline continued Sunday, a leading Republican warned that if President Barack Obama won't approve the controversial Keystone XL pipeline, Congress will act to give the ... Nanaimo News Bulletin - 11 hours ago For months, vested interests in government and the private sector have known that a damning report was in the offing by B.C.'s outgoing auditor general John Doyle. Macleans.ca - 3 hours ago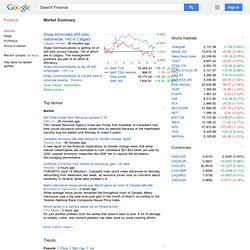 Finance: Stock market quotes, news, currency conversions & more
Stock Gumshoe | Secret Teaser Stocks Revealed. Investment Newsletters Reviewed.