Investment
Elliott Wave International: Expert Market Forecasting using the Elliott Wave Principle. Newest Club EWI Exclusive Reports More Extremes in Optimism -- The "Odd-Lotter Mentality" When investor sentiment reaches extremes, we know that a change in trend is just around the corner.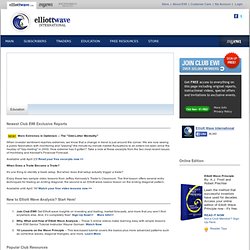 Trend Analysis. Here come the quantum dot TVs and wallpaper. (PhysOrg.com) -- A British firm's quantum dot technology will be used for flat screen TVs and flexible screens, according to the company's chief executive.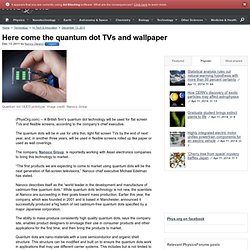 The quantum dots will be in use for ultra thin, light flat screen TVs by the end of next year, and, in another three years, will be used in flexible screens rolled up like paper or used as wall coverings. The company, Nanoco Group, is reportedly working with Asian electronics companies to bring this technology to market. Displays. Nanoco's CFQD® quantum dots offer enhanced colour, energy efficiency, and seamless integration into existing production processes LCD displays have become the interface of choice between people and their devices, from smartphones to large screen televisions.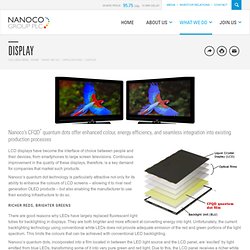 Continuous improvement in the quality of these displays, therefore, is a key demand for companies that market such products. Finance: Stock market quotes, news, currency conversions & more. CBC.ca - 26 minutes ago The Canada Revenue Agency knew last Friday that hundreds of Canadians had their social insurance numbers stolen from its website because of the Heartbleed security bug but waited until Monday to make it public.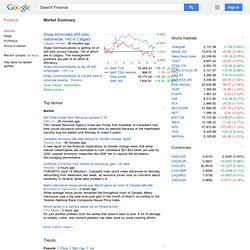 Toronto Star - 38 minutes ago A new report on the financial implications of climate change notes that while natural catastrophes are estimated to cost Canadians $21-$43 billion per year by 2050, popular economic measures like GDP fail to capture the escalation, discouraging preventative ... Reuters - 2 hours ago TORONTO, April 14 (Reuters) - Canada's main stock index advanced on Monday, rebounding from weakness last week, as resource prices rose on concerns about instability in Ukraine, while data showed U.S.
Stock Gumshoe | Secret Teaser Stocks Revealed. Investment Newsletters Reviewed.