USA - Camps F.E.M.A
Some pages changed because we reorganized the site. To assist you, here are a few suggested pages: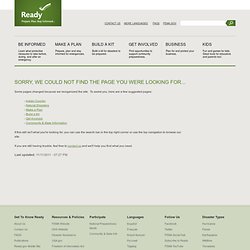 Les camps F.E.M.A
Plus de 600 camps d'emprisonnement ont été construits aux Etats-Unis par l'administration Bush, tous pleinement opérationnels et prêts à recevoir des prisonniers. Le personnel de la direction des camps est déjà en place, ainsi que des gardes à plein temps, bien que les camps soient tous vides pour l'instant. Entourés de miradors, ces camps sont destinés à être utilisés par la FEMA (Federal Emergency Management Agency – l'agence fédérale chargée de gérer les situations d'urgence) dans le cadre d'une proclamation de la loi martiale. Les camps font partie du "Rex 84 Program", un programme prévu "officiellement" pour le cas d'un franchissement en masse de la frontière mexicaine par des immigrés clandestins, afin qu'ils puissent être rapidement arrêtés et placés en détention par la FEMA.
600 camps de concentration aux Etats-Unis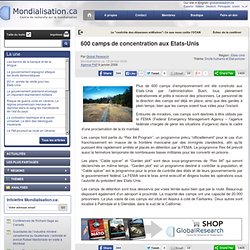 CAMP FEMA = EXTERMINATION DE MASSE !!! URGENT !!!
Les camps de concentration de la FEMA 1/9
Pub pour la FEMA
La FEMA prépare une belle année aux Américains
Les camps de la FEMA