Network
.C'est Goldman Sachs qui dirige le monde, pas les gouvernements - STFR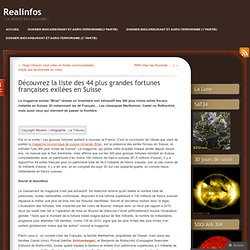 Le magazine suisse "Bilan" dresse un inventaire non exhaustif des 300 plus riches exilés fiscaux installés en Suisse.
Découvrez la liste des 44 plus grandes fortunes françaises exilées en Suisse
Liste des milliardaires du monde en 2010
Un article de Wikipédia, l'encyclopédie libre.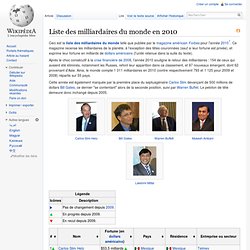 Fifty corporations that control global wealth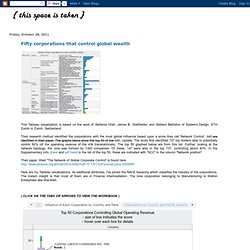 This Tableau visualization is based on the work of Stefania Vitali, James B.
TNC
The Network of Global Corporate Control Stefania Vitali, James B. Glattfelder, Stefano Battiston* Chair of Systems Design, ETH Zurich, Zurich, Switzerland