A Pearl of Ice and Fire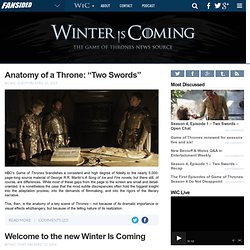 One big sword became two smaller swords, but in the end the smallest sword prevailed. You all know you've been waiting for this. It's Twitter time again!
Westeros Pack Charity Auction FEB 19th – 26th February 17, 2014 Help the Wild Spirit Wolf Sancturay build a new home for THE WESTEROS PACK, a pack of ten rescued Arctic hybrid Wolves named after characters in A Song of Ice and Fire series. Help them out and get your hands … Read More GoT Season 4 Sneak Peek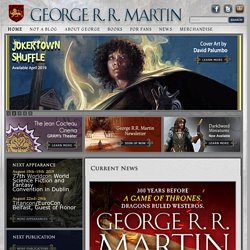 After Dark, Good Riddance. Tower of the Hand "After Dark" invites you to mingle with other members and chat about all things off topic. What are your least favorite things about 2013-- fads, news headlines, TV shows, songs, etc.-- that you'll be happy to leave behind as we enter a new year? Here are the top comments since the last AD: kingbreaker hates historically inaccurate documentaries; wisdomcow and theDudeAbides are all about the musicals, so long as they feature a bright young star or stile as the director; anabasis888 is a fan of feel good stories; and themountainthatgolfs and Kohl like comedies, either raunchy or puntastic. Below are the top comments of 2013.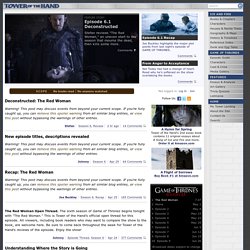 A Song of Ice and Fire is a series of epic fantasy novels written by American novelist and screenwriter George R. R. Martin. Martin began the first volume of the series, A Game of Thrones, in 1991.