Web
Brian Ford. The AngularJS documentation is great for getting started and for looking up specific API calls.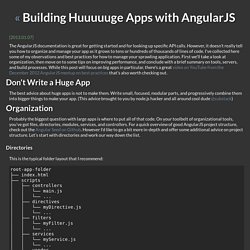 However, it doesn't really tell you how to organize and manage your app as it grows to tens or hundreds of thousands of lines of code. I've collected here some of my observations and best practices for how to manage your sprawling application. First we'll take a look at organization, then move on to some tips on improving performance, and conclude with a brief summary on tools, servers, and build processes. While this post will focus on big apps in particular, there's a great video on YouTube from the December 2012 AngularJS meetup on best practices that's also worth checking out. 100 Best CSS3 Tutorials and Tricks for Design Websites. Today i collected beautiful style design of CSS3 tutorials, examples that available for demo view and download such Text Effects and Layout, CSS3 Animated, CSS3 3D Text, Pure CSS, CSS drop-shadows, CSS image replacement, css background, css rounded corners, border radius, box shadow,css3 inner shadow, css drop shadow, css3 drop shadow and CSS3 slider/slideshow … etc.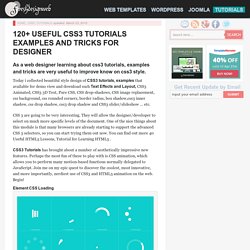 CSS 3 are going to be very interesting. They will allow the designer/developer to select on much more specific levels of the document. One of the nice things about this module is that many browsers are already starting to support the advanced CSS 3 selectors, so you can start trying them out now. You can find out more 40 Useful HTML5 Lessons, Tutorial for Learning HTML5 . All you need to know about CSS Transitions. CSS3 transitions bring simple and elegant animations to web applications, but there's a lot more to the spec than first meets the eye.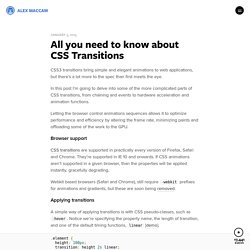 In this post I'm going to delve into some of the more complicated parts of CSS transitions, from chaining and events to hardware acceleration and animation functions. Letting the browser control animations sequences allows it to optimize performance and efficiency by altering the frame rate, minimizing paints and offloading some of the work to the GPU. Browser support CSS transitions are supported in practically every version of Firefox, Safari and Chrome.
Morris.js. Getting started Add morris.js and its dependencies (jQuery & Raphaël) to your page. 1 <link rel="stylesheet" href=" <script src="//ajax.googleapis.com/ajax/libs/jquery/1.9.0/jquery.min.js"></script>3 <script src="//cdnjs.cloudflare.com/ajax/libs/raphael/2.1.0/raphael-min.js"></script>4 <script src=" If you don't want to use the CDN-hosted assets, then you can extract them from the zip bundle and upload them to your own site.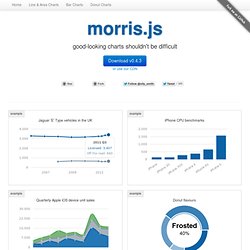 Your first chart Start by adding a <div> to your page that will contain your chart. Talks To Help You Become A Better Front-End Engineer In 2013. Advertisement Many of us care deeply about developing our craft.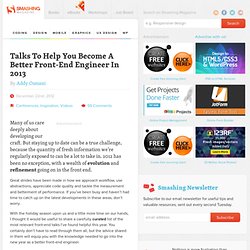 But staying up to date can be a true challenge, because the quantity of fresh information we're regularly exposed to can be a lot to take in. 2012 has been no exception, with a wealth of evolution and refinement going on in the front end. Dan Grossman | A date range picker for Twitter Bootstrap. While developing Improvely, having all the components of Twitter Bootstrap at hand pre-styled was a great time saver.
I was in need of a dropdown menu to choose date ranges for reports, and wanted something that would match the existing dropdown and button styles of Bootstrap: thus came about this date range picker component. Download it at GitHub. For basic use cases like collecting event or reservation dates, you can attach it to a text input to pop up two clickable calendars to choose dates from. For more advanced use cases, you can attach a date range picker to any element, pre-define your own date ranges for the user to choose from, and set a custom callback function to receive the chosen dates.
In 2013, the Date Range Picker was updated with many new options, including a time picker, min/max dates and max range, localization of all buttons/labels, dropdowns to jump between months/years and more. 33 fantastic Chrome extensions. Net magazine is the number one choice for the professional web designer and developer.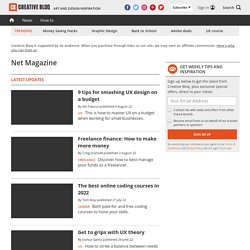 It's here that you find out about the latest new web trends, technologies and techniques – all in one handy package. Each issue boasts a wealth of expert tips and advice, including in-depth features and over 30 pages of advanced front- and backend tutorials on subjects as diverse as CSS, HTML, JavaScript, WordPress, PHP, and plenty more. net compiles the hottest new sites from around the web, and being the voice of web design, our mission is to source the best articles written by the best people in the industry and feature interviews and opinions crammed with inspiration and creative advice.
A Pen by midday. Pen Actions Create New Pen Save Info Panel (if owned)
Scaling PHP Applications: Scale PHP, MySQL, LAMP Stack easily! My Web Design and Development Heros | Gray Ghost Visuals Press. During my daily duties of scouring Twitter, I caught a post from User Agent Man titled "A Developer I Admire – Walter Zorn".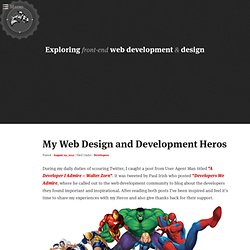 It was tweeted by Paul Irish who posted "Developers We Admire, where he called out to the web development community to blog about the developers they found important and inspirational. After reading both posts I've been inspired and feel it's time to share my experiences with my Heros and also give thanks back for their support. Guide to CSS support in email. 19 September 2013 Added support for @font-face, @media and HTML 5 media tags in email clients, as well as email-relevant CSS properties.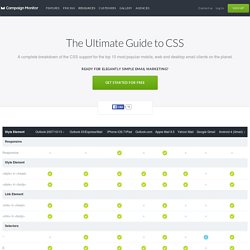 We re-tested all webmail clients and the latest versions of existing clients. 30 January 2013. Geolocation Search. Services that allow users to identify nearby points of interest continue to grow in popularity. I'm sure we're all familiar with social websites that let you search for the profiles of people near a postal code, or mobile applications that use geolocation to identify Thai restaurants within walking distance.
It's surprisingly simple to implement such functionality, and in this post I will discuss how to do so. The first step is to obtain the latitude and longitude coordinates of any locations you want to make searchable. In the restaurant scenario, you'd want the latitude and longitude of each eatery. In the social website scenario, you'd want to obtain a list of postal codes with their centroid latitude and longitude. Derickbailey/backbone.marionette. Backbone.js. Font Awesome, the iconic font designed for use with Twitter Bootstrap.
One Font, 369 Icons In a single collection, Font Awesome is a pictographic language of web-related actions. No JavaScript Required Fewer compatibility concerns because Font Awesome doesn't require JavaScript. Infinite Scalability. Twitter Bootstrap.
---