Indoor Navigation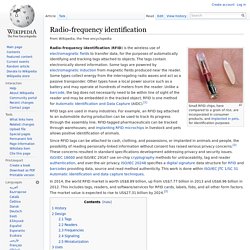 RFID chip next to a grain of rice. This chip contains a radio-frequency electromagnetic field coil that modulates an external magnetic field to transfer a coded identification number when queried by a reader device. This small type is incorporated in consumer products, and implanted in pets, for identification purposes. Radio-frequency identification ( RFID ) is the wireless non-contact use of radio-frequency electromagnetic fields to transfer data, for the purposes of automatically identifying and tracking tags attached to objects. Some tags require no battery and are powered and read at short ranges via magnetic fields ( electromagnetic induction ).
Near-field electromagnetic ranging (NFER) refers to any radio technology employing the near-field properties of radio waves as a Real Time Location System (RTLS). [ edit ] Overview Near-field electromagnetic ranging is an emerging RTLS technology that employs transmitter tags and one or more receiving units. Operating within a half- wavelength of a receiver, transmitter tags must use relatively low frequencies (less than 30 M Hz ) to achieve significant ranging. Depending on the choice of frequency, NFER has the potential for range resolution of 30 cm (1 ft) and ranges up to 300 m (1,000 ft). [ 1 ] [ edit ] Technical Discussion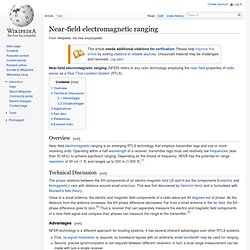 Near-field electromagnetic ranging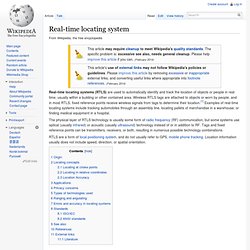 Real-time locating system
Real-time locating systems (RTLS) are used to automatically identify and track the location of objects or people in real time, usually within a building or other contained area. Wireless RTLS tags are attached to objects or worn by people, and in most RTLS, fixed reference points receive wireless signals from tags to determine their location. [ 1 ] Examples of real-time locating systems include tracking automobiles through an assembly line, locating pallets of merchandise in a warehouse, or finding medical equipment in a hospital. The physical layer of RTLS technology is usually some form of radio frequency (RF) communication, but some systems use optical (usually infrared ) or acoustic (usually ultrasound ) technology instead of or in addition to RF. Tags and fixed reference points can be transmitters, receivers, or both, resulting in numerous possible technology combinations.
Indoor Autonomous Positioning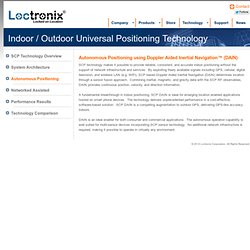 SCP technology makes it possible to provide reliable, consistent, and accurate indoor positioning without the support of network infrastructure and services. By exploiting freely available signals including GPS, cellular, digital television, and wireless LAN (e.g. WiFi), SCP based Doppler Aided Inertial Navigation (DAIN) determines location through a sensor fusion approach. Combining inertial, magnetic, and gravity data with the SCP RF observables, DAIN provides continuous position, velocity, and direction information. A fundamental breakthrough in indoor positioning, SCP DAIN is ideal for emerging location enabled applications hosted on smart phone devices.
The Institute of Navigation
MSI_Whitepaper
Indoor Navigation with SVG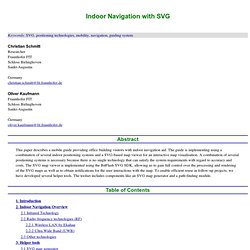 SVG, positioning technologies, mobility, guiding system Christian Schmitt Researcher Fraunhofer FIT Schloss Birlinghoven Sankt-Augustin Germany christian.schmitt@fit.fraunhofer.de Oliver Kaufmann Fraunhofer FIT Schloss Birlinghoven Sankt-Augustin Germany oliver.kaufmann@fit.fraunhofer.de This paper describes a mobile guide providing office building visitors with indoor navigation aid.