OPINION
Wikileaks: Where Do You Stand? | Overseas Press Club of America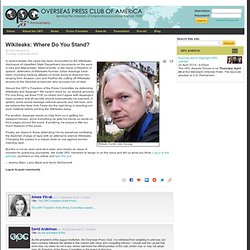 Wikileaks founder Julian Assange In recent weeks, the news has been dominated by the Wikileaks disclosure of classified State Department documents on the wars in Iraq and Afghanistan. Most recently, in the name of freedom of speech, defenders of Wikileaks founder Julian Assange have been mounting hacking attacks on those trying to disavow him, ranging from Amazon.com and PayPal (for cutting off Wikileaks access) to the Swedish prosecutor who accuses him of rape. Should the OPC's Freedom of the Press Committee be defending Wikileaks and Assange?
posted by Danielle Citron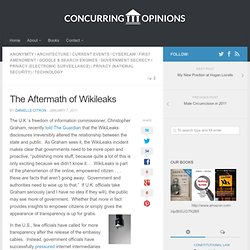 The Aftermath of Wikileaks
July 26, 2010 The Afghanistan War Logs Released by Wikileaks, the World's First Stateless News Organization
Jay Rosen on Afghanistan logs July '10
Like a lot of people, I am conflicted about Wikileaks. Citizens of a functioning democracy must be able to know what the state is saying and doing in our name, to engage in what Pierre Rosanvallon calls "counter-democracy"*, the democracy of citizens distrusting rather than legitimizing the actions of the state.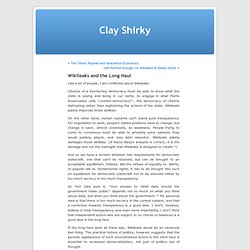 The Hazards of Nerd Supremacy - J. Lanier
The degree of sympathy in tech circles for both Wikileaks and Anonymous has surprised me. The most common take seems to be that the world needs cyber-pranksters to keep old-school centers of power, like governments and big companies, in check.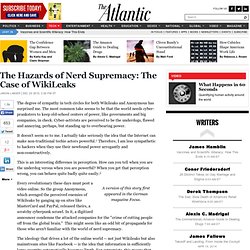 Reactions ONI Team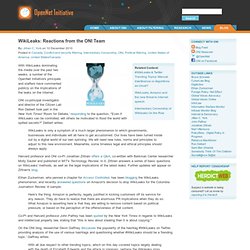 With WikiLeaks dominating the media over the past two weeks, a number of the OpenNet Initiative's principals and staffers have commented publicly on the implications of the leaks on the Internet. ONI co-principal investigator and director of the Citizen Lab Ron Deibert took part in the New York Times' 'Room for Debate,' responding to the question, "Even if WikiLeaks can be controlled, will others be motivated to flood the world with spilled secrets?" Deibert writes: WikiLeaks is only a symptom of a much larger phenomenon to which governments, businesses and individuals will all have to get accustomed.