MISC.
04-08 Vote for Bradley Manning in The 2011 TIME 100 Poll, closes April 14. Vote for Bradley Manning in The 2011 TIME 100 Poll, here!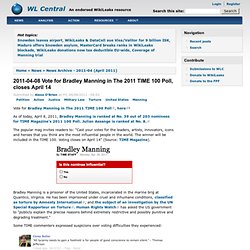 As of today, April 8, 2011, Bradley Manning is ranked at No. 39 out of 203 nominees for TIME Magazine's 2011 100 Poll. Julian Assange is ranked at No. 8. The popular mag invites readers to: "Cast your votes for the leaders, artists, innovators, icons and heroes that you think are the most influential people in the world. Manning & the making of WL. Posted 02.08.11 Page:1(of 9) FULL TEXT: The Inside Story of the Oklahoman Behind the Biggest Military Intelligence Leak Ever Editor's note: Since it was first published in September of 2010, "Private Manning and the Making of Wikileaks" has been widely considered the definitive article on the life of Bradley Manning.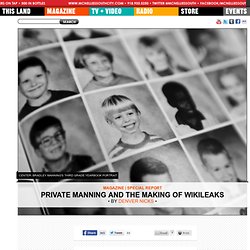 Manning in the Making. Posted 03.07.11 Page:1(of 4) "He moved to America, and it was just like, chaos after chaos after chaos," said Jordan Davis at his home near Edmond, Oklahoma.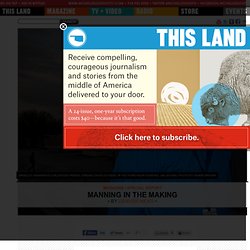 Amid the detritus of a 23-year-old man's trailer dwelling—dirty dishes and a lived-in video game zone—he talked about his longtime friend Bradley Manning, the suspected source of nearly all the classified documents WikiLeaks released in 2010. Manning is being held at Marine Corps Base Quantico, in Virginia, awaiting a court martial likely to be held in the fall of 2011. "An Inside Look at the WL Revolution" (HAARETZ) Encryption Software onto DOD Computers? I've been revisiting the timeline revealed in Bradley Manning's charging document.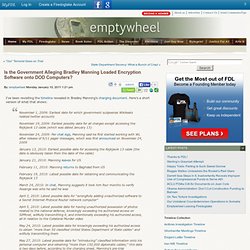 Here's a short version of what that shows: Manning Hopeful About Tunisia & Egypt. Update: Watch David House discuss his visit with Bradley Manning in an interview with MSNBC's Dylan Ratigan.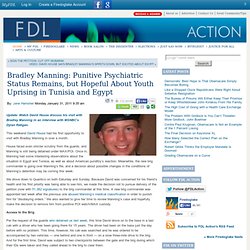 This weekend David House had his first opportunity to visit with Bradley Manning in over a month. House faced even stricter scrutiny from the guards, and Manning is still being detained under MAX/POI. Once in, Manning had some interesting observations about the situation in Egypt and Tunisia, as well as about American punditry's reaction.
Meanwhile, the new brig commander is going over Manning's file, and a decision about possible changes in the conditions of Manning's detention may be coming this week.