MISC.
ANONYMOUS: Behind the mask, inside the Hivemind. On a frigidly cold morning in early 2008, two dozen complete strangers arranged to meet for the first time.
They had travelled from all over the metro area, some taking over two hours to reach their destination. Coffee and doughnuts were sacrificed to the ritual of placing online handles to faces. The first meeting of the Edmonton chapter of Project Chanology had officially begun. Similar meetings were taking place around the world.
LulzSec Hack PBS.ORG. The Anthropology of Hackers - Gabriella Coleman - Technology. Editor's Note: Pasty kids with greasy hair typing on command lines.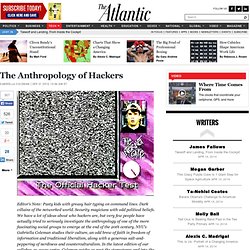 Dark villains of the networked world. Security magicians with odd political beliefs. We have a lot of ideas about who hackers are, but very few people have actually tried to seriously investigate the anthropology of one of the more fascinating social groups to emerge at the end of the 20th century. Lessons from Anonymous on cyberwar. "Cyberwar" is a heavily loaded term, which conjures up Hollywood inspired images of hackers causing oil refineries to explode.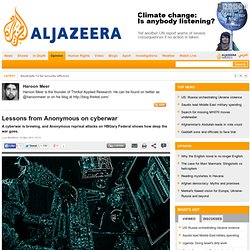 Some security celebrities came out very strongly against the thought of it, claiming that cyberwar was less science, and more science fiction. Last year on May 21, the United States Cyber Command (USCYBERCOM) reported reaching initial operational capability, and news stories abound of US soldiers undergoing basic cyber training, which all point to the idea that traditional super powers are starting to explore this arena. Recent activities with one government contractor and Anonymous, however, show clearly that cyber operations have been going on for a long while, and that the private sector has been only too ready to fill the cyber mercenary role for piles of cash.
Anonymous vs. HBGary. 03-16 Bradley Manning's plight rouses interest and concern in the UK (Updated) Update: Ann Clwyd MP's question today, 17 March, in the Commons, on the turn MP Ann Clwyd (L-Cynon Valley) today raised the question of the treatment of PFC Bradley Manning at the Quantico military base in Virginia with the foreign secretary, William Hague, during his testimony before the Commons Foreign Affairs Committee.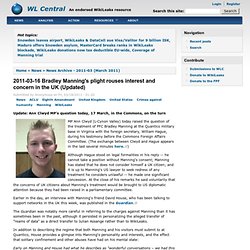 (The exchange between Clwyd and Hague appears in the last several minutes here.) Although Hague stood on legal formalities in his reply -- he cannot take a position without Manning's consent; Manning has stated that he does not consider himself a UK citizen; and it is up to Manning's US lawyer to seek redress of any treatment he considers unlawful -- he made one significant concession. At the close of his remarks he said voluntarily that the concerns of UK citizens about Manning's treatment would be brought to US diplomatic attention because they had been raised in a parliamentary committee.
Pentagon Papers leaker: 'I was Bradley Manning' In 1960s, Daniel Ellsberg got access to top-secret documents on Vietnam WarHe leaked the information, which became known as the Pentagon Papers in 1971Ellsberg says he's very empathetic to the plight of Pfc.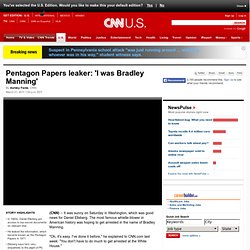 Bradley ManningManning is being held in military prison, accused in 2010 WikiLeaks case (CNN) -- It was sunny on Saturday in Washington, which was good news for Daniel Ellsberg. The most famous whistle-blower in American history was hoping to get arrested in the name of Bradley Manning. Let it rain. "Anonymous is not the name of an organization.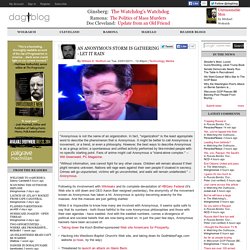 In fact, "organization" is the least appropriate word to describe the phenomenon that is Anonymous. It might be better to call Anonymous a movement, or a trend, or even a philosophy. Convictions. Unless the sources of the DDoS attacks being carried out by Anonymous are identified and stopped, there seems to be no end in sight for their deluge of operations.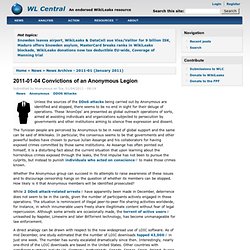 These 'AnonOps' are presented as global outreach operations of sorts, aimed at assisting individuals and organizations subjected to persecution by governments and other institutions aiming to silence free expression and dissent. The Tunisian people are perceived by Anonymous to be in need of global support and the same can be said of Wikileaks. Social Dynamics of the LOIC. Yesterday's post about group behavior when faced with changing conditions elicited some response.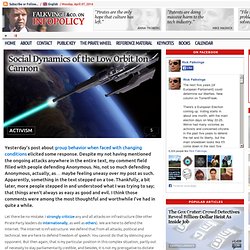 Despite my not having mentioned the ongoing attacks anywhere in the entire text, my comment field filled with people defending Anonymous. No, not so much defending Anonymous, actually, as… maybe feeling uneasy over my post as such. PP Statement On Arrests. Pirate Party spokespeople are always ready to give a lively, informed, and often provocative view on the issues of the day.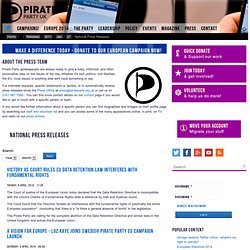 Whether it's tech politics, civil liberties, the EU, local issues or anything else we'll have something to say. For interview requests, specific statements or quotes, or to automatically receive press releases email the Press Office at press@pirateparty.org.uk or call us on 0161 987 7880. You can find more contact details on our contact page if you would like to get in touch with a specific person or team. If you would like further information about a specific person you can find biographies and images on their profile page by searching our staff and volunteer list and you can access some of the many appearances online, in print, on TV and radio on our press archive. Declaration of Freedom. Inside the hive-mind. "Our assessment is that the Egyptian government is stable and is looking for ways to respond to the legitimate needs and interests of the Egyptian people."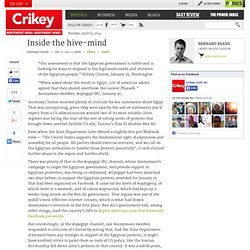 Hillary Clinton, January 25, Washington "When asked about the revolt in Egypt, 72% of american adults agreed that they should overthrow the current Pharaoh." Anonymous member, #opegypt IRC, January 26, Secretary Clinton received plenty of criticism for her statements about Egypt. AHCS - Gabriella Coleman. Operation Set-the-Record-Straight. By Proponents of Wikileaks identify Julian Assange as an international hero and liken him to the Founding Fathers of the United States. Critics cast Wikileaks as a nefarious syndicate deserving the label of foreign terrorist organization. Some go even further by demanding Julian Assange be given the death penalty or summary execution. Anonymous Isn't Anonymous Anymore. WLs Supporters Face Hunt for Leaders. Evidence collected by the FBI about Anonymous, which attacked websites of four companies to punish them for blocking contributions to WikiLeaks, will be considered this week by a U.S. grand jury, according to court papers and an informal spokesman for the group of activist hackers.
The federal grand jury in San Jose, California, will begin reviewing evidence tomorrow that includes computers and mobile phones seized from suspected leaders as prosecutors probe the coordinated so-called denial-of-service attacks in December, according to a federal subpoena and the spokesman, Barrett Brown. Anonymous directed activists to target payment processors MasterCard Inc., Visa Inc., EBay Inc.'s PayPal, and U.K. -based Moneybookers.com in public chat rooms. Lessons from Anonymous on cyberwar.
---