GOVT / MILITARY / DEFENSE / ...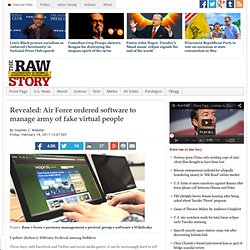 Update (below): HBGary Federal among bidders
Revealed: Air Force ordered software to manage army of fake virtual people
Open Secrets: WikiLeaks, War, and American Diplomacy - The New York Times
Department of Defense employees who downloaded classified documents from Wikileaks onto unclassified government computer systems may delete them without further "sanitizing" their systems or taking any other remedial measures, the Pentagon said in a policy memo (pdf) last week.
DoD Takes Flexible View on Deleting Wikileaks Docs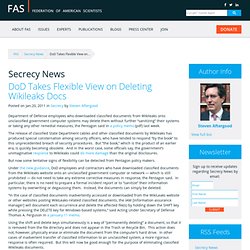 Document Web Site as a Potential Threat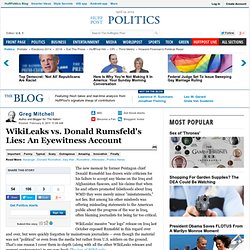 The new memoir by former Pentagon chief Donald Rumsfeld has drawn wide criticism for his failure to accept any blame on the Iraq and Afghanistan fiascoes, and his claims that when he and others promoted falsehoods about Iraq WMD they were merely minor "misstatements," not lies.
WL vs. Donald Rumsfeld's Lies
Last day at Salon Glenn Greenwald Wednesday, Aug 15, 2012 9:30 PM UTC Politics The sham "terrorism expert" industry A highly ideological, jingoistic clique masquerades as objective scholars, all to justify US militarism Glenn Greenwald Wednesday, Aug 15, 2012 9:29 PM UTC Politics Secrecy creep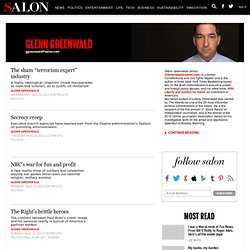 Top News
US officials privately say WikiLeaks damage limited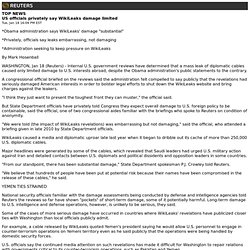 Treasury Says It Cannot Sanction WL Or J.A.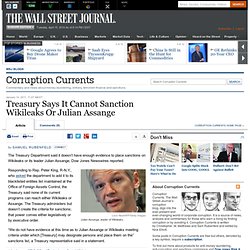 By Samuel Rubenfeld The Treasury Department said it doesn't have enough evidence to place sanctions on Wikileaks or its leader Julian Assange, Dow Jones Newswires reported. Leon Neal/AFP/Getty Images
Gvt-created climate of fear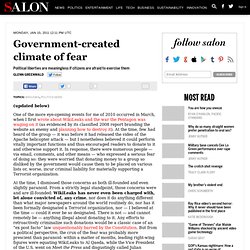 One of the more eye-opening events for me of 2010 occurred in March, when I first wrote about WikiLeaks and the war the Pentagon was waging on it (as evidenced by its classified 2008 report branding the website an enemy and planning how to destroy it ). At the time, few had heard of the group — it was before it had released the video of the Apache helicopter attack — but I nonetheless believed it could perform vitally important functions and thus encouraged readers to donate to it and otherwise support it. In response, there were numerous people — via email, comments, and other means — who expressed a serious fear of doing so: they were worried that donating money to a group so disliked by the government would cause them to be placed on various lists or, worse, incur criminal liability for materially supporting a Terrorist organization. At the time, I dismissed those concerns as both ill-founded and even slightly paranoid.
JACOB APPELBAUM (IOERROR)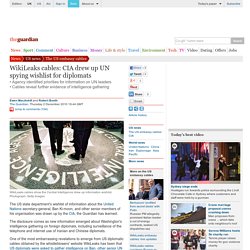 WikiLeaks cables show the Central Intelligence drew up information wishlist. Photograph: Getty Images
UN spying wishlist
Fear 'Guantanamo' Or 'Death Penalty'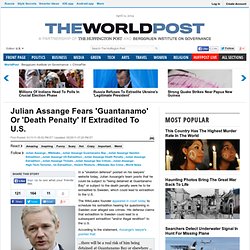 In a "skeleton defense" posted on his lawyers' website today, Julian Assange's team posits that he could be subject to "being detained at Guantanamo Bay" or subject to the death penalty were he to be extradited to Sweden, which could lead to extradition to the U.S. The WikiLeaks founder appeared in court today to schedule his extradition hearing for questioning in Sweden over alleged sex crimes. His defense claims that extradition to Sweden could lead to a subsequent extradition "and/or illegal rendition" to the U.S.
FBI seizes server
The FBI has seized a server in Texas as part of its hunt for the groups behind the pro-WikiLeaks denial-of-service attacks launched in December against PayPal, Visa, MasterCard, and others, according to a report. During a December 16 raid, agents seized a server at Tailor Made Services, a Dallas-based co-location, or server-hosting, facility, and copied two of its hard drives, according to The Smoking Gun Web site, which said it has obtained the FBI affidavit in support of a search warrant for the seizure. It's not clear what was found on the drives, The Smoking Gun reported, saying that search warrant records showed agents were authorized to seize material related to the attacks or to other illegal activities involving the groups Anonymous or 4chan. Anonymous has claimed responsibility for deluging the Web sites of PayPal and others with data in order to bring the sites down.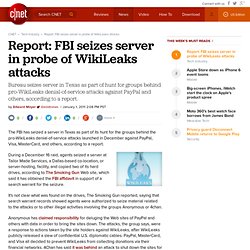 US fears over Wikileaks
Internet Freedom Promise
The conflict between Wikileaks and the U.S. Government reminds me of something we've been experiencing for some years now in the private sector of corporate activity and social enterprises.
Inciting the Whackers
Further to my open letter on those inciting murder upon Julian Assange, this op ed style post again responds to those who say that Julian Assange should be kidnapped, executed, murdered or otherwise be "whacked", to use a favourite Hollywood gangster expression. It is a much expanded variant of the open letter to the inciters at Wikileaks Central.
WL on incitement
The US response to Wikileaks has been an interesting illustration of both the limits and extent of state power in an age of transnational information flows. The problem for the US has been quite straightforward. The Internet makes it more difficult for states (even powerful ones such as the US) to control information flows across their own borders and others.
State Power & the response to WL