FBI
Get flash to fully experience Pearltrees
The Federal Bureau of Investigation is targeting a Texas-based computer network that the government thinks was hijacked for the Anonymous group's Operation: Payback DDoS attack on PayPal. "As part of the process of identifying the computer system that I seek to search, I may be forced to check each system belonging to the target customer until I have determined that it is the computer to be searched," the author of the FBI's Affidavit in Support of a Search Warrant of the facility explains. The FBI's request was obtained by The Smoking Gun news site.
The FBI yesterday executed 40 search warrants around the US to gather evidence on the Anonymous distributed denial of service (DDoS) attacks in defense of WikiLeaks last year—attacks which targeted Visa, MasterCard, PayPal, and Amazon. And when the FBI comes a-knockin', the whole house starts a rockin'. Ars has seen posts from a private forum in which several targets of the FBI raids offer brief descriptions of the experience, along with the occasional photo of a beaten-in front door. We cannot guarantee the authenticity of these accounts, though we believe them to be genuine. A note of context: "LOIC" here refers to the Low Orbit Ion Cannon, a software tool used in the Anonymous DDoS attacks that can flood a network connection with data.
I agree on the significance but personally I got quite tired of waking up people. I tend to leave them in their comfort zone now :-) by spark Feb 28
i will continue to object to the misinformation that the media runs. If we can take the blinfolds off of one person then that is a victory within itself. by mezcal13 Feb 28
offtopic: Miss Skaggs, I am struck by what you say. I'm 38 now and I hope that when I will be old, I'll still be wild too.... // @alx_d: I have my doubts about a real discussion as well... Do you hear John Brennan coming? Seems like every anon will be regarded as a terrorist in the near future... It wouldn't surprise me. // @mezcal13: Fearmongering and demonising organisations are classical ways of treating a possible 'threat'. OWS has been demonised as well. It all sounds pretty familiar. The question is whether and how much time you should spend on objecting this (mostly) established media crap... by spark Feb 28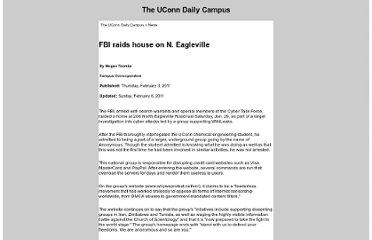 The FBI, armed with search warrants and special members of the Cyber Task Force, raided a home at 208 North Eagleville Road last Saturday, Jan. 29, as part of a larger investigation into cyber attacks led by a group supporting WikiLeaks. After the FBI thoroughly interrogated the UConn chemical engineering student, he admitted to being a part of a larger, underground group going by the name of Anonymous. Though the student admitted to knowing what he was doing as well as that this was not the first time he had been involved in similar activities, he was not arrested. This national group is responsible for disrupting credit card websites such as Visa, MasterCard and PayPal. After entering the website, several commands are run that overload the servers for days and render them useless to users.