CONTRA
Bill Keller vs Wikileaks: Goodnight, Julian Assange, And Bad Luck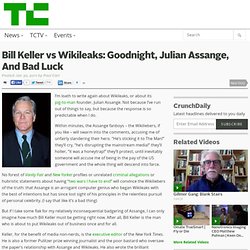 I'm loath to write again about Wikileaks, or about its pig-to-man founder, Julian Assange.
Knight Foundation Hands Out Grants to 12 Groups, but Not WikiLeaks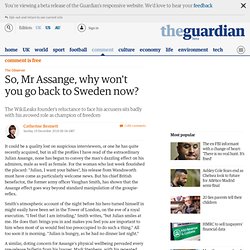 Why not back to Sweden now? (C. Bennett)
It could be a quality lost on suspicious interviewers, or one he has quite recently acquired, but in all the profiles I have read of the extraordinary Julian Assange, none has begun to convey the man's dazzling effect on his admirers, male as well as female. For the woman who last week flourished the placard: "Julian, I want your babies", his release from Wandsworth must have come as particularly welcome news. But his chief British benefactor, the former army officer Vaughan Smith, has shown that the Assange effect goes way beyond standard manipulation of the groupie-reflex. Smith's atmospheric account of the night before his hero turned himself in might easily have been set in the Tower of London, on the eve of a royal execution. "I feel that I am intruding," Smith writes, "but Julian smiles at me.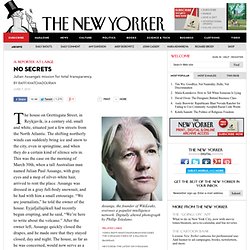 The house on Grettisgata Street, in Reykjavik, is a century old, small and white, situated just a few streets from the North Atlantic. The shifting northerly winds can suddenly bring ice and snow to the city, even in springtime, and when they do a certain kind of silence sets in. This was the case on the morning of March 30th, when a tall Australian man named Julian Paul Assange, with gray eyes and a mop of silver-white hair, arrived to rent the place.
Judith Miller attacks WikiLeaks
December 30, 2010 |
Smears & Misconceptions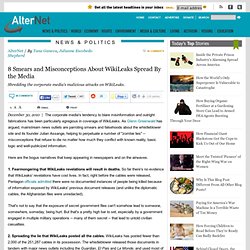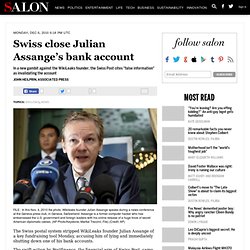 The Swiss postal system stripped WikiLeaks founder Julian Assange of a key fundraising tool Monday, accusing him of lying and immediately shutting down one of his bank accounts.
Anti-WL lies & propaganda