CENSORSHIP
VIDEO: Times VS. W.L.
A Wave of the Watch List, and Speech Disappears
Note: The deadline for this Request for Proposals has passed. Department of State Public Notice Bureau of Democracy, Human Rights and Labor Request for Proposals: Democracy, Human Rights, and Rule of Law in the Near East Region.
The irony...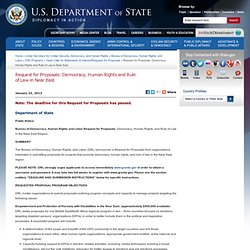 As Prepared for Delivery Good morning. I am delighted to be here to speak with you and through C-SPAN to the viewing audience around the United States.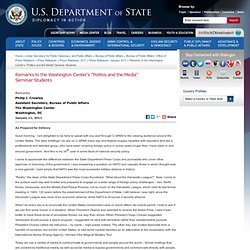 the sequel
The United States is pleased to announce that it will host UNESCO's World Press Freedom Day event in 2011, from May 1 - May 3 in Washington, D.C. UNESCO is the only UN agency with the mandate to promote freedom of expression and its corollary, freedom of the press. The theme for next year's commemoration will be 21st Century Media: New Frontiers, New Barriers. The United States places technology and innovation at the forefront of its diplomatic and development efforts.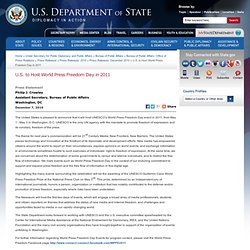 WL & Internet Freedom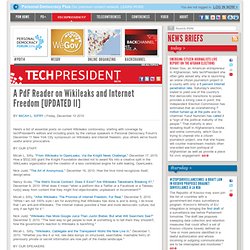 Here's a list of essential posts on current Wikileaks controversy, starting with coverage by techPresident's editors and including posts by the various speakers in Personal Democracy Forum's December 11 New York City symposium on Wikileaks and internet freedom, plus others we've found useful and/or provocative. Micah L. Sifry, "From Wikileaks to OpenLeaks, Via the Knight News Challenge," December 17, 2010. How a $532,000 grant the Knight Foundation decided not to award fits into a creative split in the WikiLeaks organization and the creation of a less centralized engine for safe leaking, OpenLeaks. Nick Judd, "The Art of Anonymous," December 16, 2010.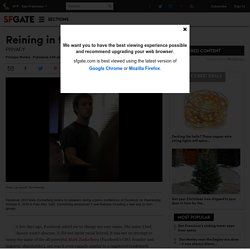 A few days ago, Facebook asked me to change my user name. The name I had chosen wasn't obscene, it did not incite racial hatred, it was not an attempt to usurp the name of the all-powerful Mark Zuckerberg (Facebook's CEO, founder and majority shareholder), nor was it even vaguely similar to a registered trademark. I had chosen a name composed entirely of Braille characters. The engineers at Facebook had suddenly decided that this was no longer acceptable. When I signed up, Facebook asked me for my real name and verified my identity by getting me to enter a confirmation code it sent to my mobile phone. It also pressed me to tell my e-mail password so it could access my address book and retrieve my contacts - my "friends," in house terminology.
Reining in freedom on the Web
Freedom on the Web
Timeline WL- Attacks
WikiLeaks' home page showing an image of Julian Assange after the move to a Swiss host. Photograph: Valentin Flauraud/Reuters On Sunday 28 November WikiLeaks began releasing the first of its 250,000 leaked US embassy cables.
Intermediary censorship
By Index on Censorship / 3 December, 2010 Private ownership of web hosting raises serious questions for free expression, says Jillian C York WikiLeaks' latest release is making its rounds in the media. Links to cablegate.wikileaks.org are circulating, posted on Twitter and Facebook, passed around in emails. After several releases from the whistleblowing organisation, we've begun to take for granted that the leaked information — at least what's already online — will be accessible to us. As Rebecca MacKinnon points out, this isn't the first time Lieberman has made such a call; in 2008, the Senator demanded removal of "content produced by Islamist terrorist organisations" from video-sharing site YouTube.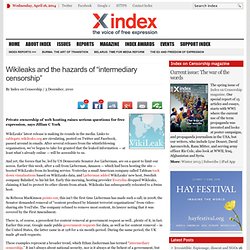 Transcripts: Arabic | Chinese | French | Persian | Russian | Spanish | Urdu SECRETARY CLINTON: Thank you very much, Alberto, for not only that kind introduction but your and your colleagues' leadership of this important institution. It's a pleasure to be here at the Newseum. The Newseum is a monument to some of our most precious freedoms, and I'm grateful for this opportunity to discuss how those freedoms apply to the challenges of the 21st century. Although I can't see all of you because in settings like this, the lights are in my eyes and you are in the dark, I know that there are many friends and former colleagues. I wish to acknowledge Charles Overby, the CEO of Freedom Forum here at the Newseum; Senator Edward Kaufman and Senator Joe Lieberman, my former colleagues in the Senate, both of whom worked for passage of the Voice Act, which speaks to Congress's and the American people's commitment to internet freedom, a commitment that crosses party lines and branches of government.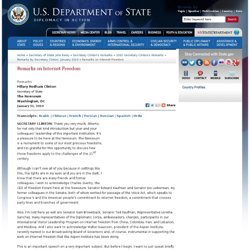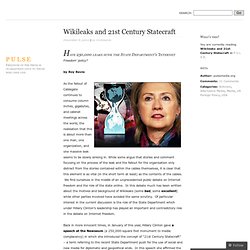 Have 250,000 leaks sunk the State Department's 'Internet Freedom' policy? by Roy Revie As the fallout of Cablegate continues to consume column inches, gigabytes, and cabinet meetings across the world, the realisation that this is about more than one man, one organization, and one massive leak seems to be slowly sinking in. While some argue that stories and comment focusing on the process of the leak and the fallout for the organisation only distract from the stories contained within the cables themselves, it is clear that this element is as vital (in the short term at least) as the contents of the cables. We find ourselves in the middle of an unprecedented public debate on Internet freedom and the role of the state online. In this debate much has been written about the motives and background of Wikileaks (some bad, some excellent) while other parties involved have avoided the same scrutiny.
WL & 21st Cent. statecraft 20th cent. roots of 21st cent. statecraft
Let's imagine a parallel universe for a second. In that universe, the U.S. State Department decides that energy -- rather than the Internet -- would form one of the core pillars of "21st century statecraft." To that end, the secretary of state would give a speech about some highly abstract and ambiguous concept like "environmental freedom" that would strike the right chord with the media -- if only because it promises a greener future for all of us!
Originally posted on Slate. In March of this year, Hillary Clinton announced that the U.S. government had granted a license to a company whose software would "help information continue to flow freely into and out of Iran." That software was called Haystack, an anti-censorship tool that received glowing coverage from the BBC, NPR, the Christian Science Monitor, the International Herald Tribune, and many other news sources. Perhaps it was Haystack's teasing, provocative slogan -- "Good luck finding that needle" -- that so intrigued the reporters. Or maybe it was the story of its founder Austin Heap, the twentysomething IT specialist from San Francisco who, prior to founding Haystack in June 2009, spent much of his time killing dragons in World of Warcraft.
Internet Freedom Fraud (Morozov)