Blogs
Wanderplex | Tips, Tricks, and Inspiration for World Travel
How To Plan Your Vacation Time Realistically I often meet other travelers who have their whole vacation scheduled out. They know exactly where they're going to eat breakfast, lunch, and dinner, they have their museum visits planned out, their sightseeing trips slotted into the day's program, and even their coffee breaks penciled in. As you already know, I lean away from such... read more The Cyber Monday Travel Deals Guide (And A Giveaway) I know Cyber Monday is still a week away, but since booking hotels and making travel arrangements isn't generally as spur of the moment as buying a marked-down t-shirt, I wanted to make sure you had plenty of time to scour the best deals and decide on your vacation plans.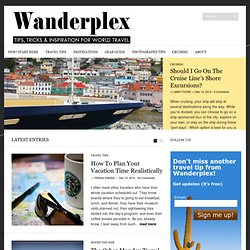 Traveldudes.org | For Travelers, By Travelers!
Travel Guides - World Travel Guide
People travel all over the world to see strange natural wonders and unusual landscapes. But what about traveling to places where you can witness some of the weirdest natural phenomena on earth? Like this…
Nine Strange Natural Phenomena You Have To See To Believe | The Jetpacker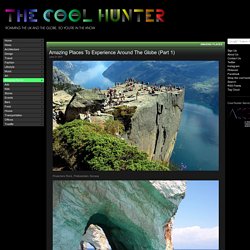 Preachers Rock, Preikestolen, Norway Blue Caves - Zakynthos Island, Greece Skaftafeli - Iceland Plitvice Lakes – Croatia Crystalline Turquoise Lake, Jiuzhaigou National Park, China
Amazing Places To Experience Around The Globe (Part 1)
Globe Genie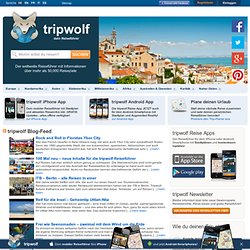 tripwolf ist ein Reiseführer und eine Reise-Community in einem! Auf tripwolf findest du Inhalte professioneller Reiseberichte aus renommierten Reiseführern wie Marco Polo und Footprint kombiniert mit aktuellen Reisetipps von tausenden Reisenden aus aller Welt. Entdecke Reiseinformationen zu 50.000 Orten und hole dir Infos zu mehr als 500.000 Sehenswürdigkeiten, Hotels und Restaurants weltweit!
tripwolf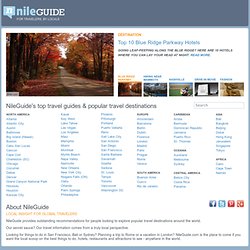 Travels in the Western Cape Josh Steinitz The skies darkened and the rain started. Soon, it was coming down so hard that it sounded like a jet engine roar on the roof. Then came some cracks of lightening, which sounded at increasing frequency until it felt almost continuous.
NileGuide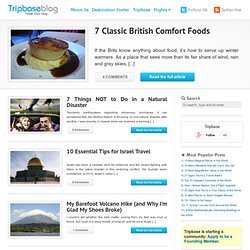 7 Classic British Comfort Foods If the Brits know anything about food, it's how to serve up winter warmers. As a place that sees more than its fair share of wind, rain and gray skies, [...] Read the full article 7 Things NOT to Do in a Natural Disaster Tsunamis, earthquakes, exploding volcanoes, hurricanes, it can sometimes feel like Mother Nature is throwing us one natural disaster after another.
TripbaseBlog
AlmostFearless.com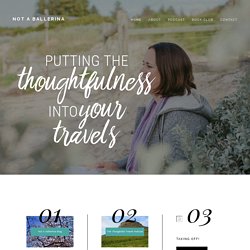 Not A Ballerina
My two-year stay in Japan saw me based in Osaka and Nara, rather than the more common Tokyo area, and that meant the magnificent Mount Fuji (Fuji-san) was not quite round the corner. But it was so often present in discussions and very early on I decided that I wanted to climb it before I left Japan. I heard about this traditional proverb from students with slightly disturbing regularity: Everyone should climb Fuji-san once - only a fool would do it twice. Nobody would quite explain why they said this, and I sensed they were all prepared to leave me to find out on my own. It was my second August in Japan when I got my chance.
Wikitravel
Travelated
Everything Everywhere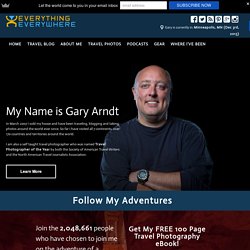 Last summer I did an island hopping tour of the Lesser Antilles in the Caribbean. I recently did two appearances on the popular Amateur Traveler podcast with my friend Chris Christensen to talk about my trip. Because there were so many islands, we split the interview into two with the first half talking about the Leeward Islands (USVI, BVI, St Martin, Saba, St Eustatius, Anguilla, St Bart's, St Kitts and Nevis, Antigua and Barbuda, and Montserrat) and the Windward Islands (Guadeloupe, Dominica, Martinique, St Lucia, Barbados, St Vincent and the Grenadines, Grenada, and Trinidad and Tobago). This was actually my 6th and 7th appearance on the show, going all the way back to 2008. I always tend to talk about tiny countries.
Lonely Planet Travel
Atlas Obscura
MatadorNetwork