Miscellaneous
If there's one thing Friedrich Nietzsche did well, it's obliterate feel-good beliefs people have about themselves.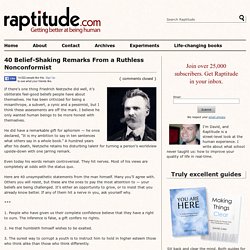 40 Belief-Shaking Remarks From a Ruthless Nonconformist | Raptitude.com
Evo_large.gif from evogeneao.com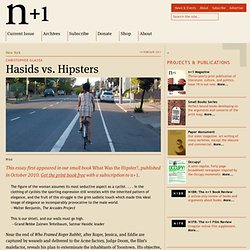 Hasids vs. Hipsters
The figure of the woman assumes its most seductive aspect as a cyclist. . . . In the clothing of cyclists the sporting expression still wrestles with the inherited pattern of elegance, and the fruit of this struggle is the grim sadistic touch which made this ideal image of elegance so incomparably provocative to the male world.
taKE A mOMENt To BreatHE aNd ThiNk ABouT WhAT YoU are gRATEFul for - StumbleUpon
11.jpg from makeundermylife.com
tumblrlc12pav72i1qcq8va.jpg from imageshack.us
Gifs, Gifs and More Funny Gifs from Senor Gif - Page 16
Show Newer Posts! And You Thought Choosing a Restaurant Was The Tough Part