MUSIC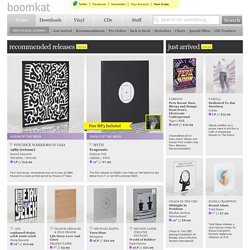 Too freaky for many, but all too good to miss out on; these 14 tracks don't easily fit any dancefloor category so we've given 'em some extra exposure here. Between the electro-jazz dimensions of Jameszoo's 'The Clumtwins' and GB's 'Reflexes', the tantric funk of Mark Fell's Sensate Focus 'X' and Anstam's mind-bending 'Intuit', they make up some of the oddest grooves we've heard in the last year or so. The UK freeks are well represented with DVA's demented 'Gang Gang Riddim', the hyperkinetic torque of Alan Johnson's 'Fickle', Meatbingo's mechaboogie and Altered Natives' 'ardcore-cum-Ballroom banger 'The Beastly gHastly' for Hoya:Hoya,…
Lucked Out by CANDIE on SoundCloud
(1946 unread) - andydsouth - Yahoo! Mail
The Macbeth
Please note - Our email is down at the moment. In the meantime, please direct all enquiries to buffalobarlondon@gmail.com - Many thanks. Welcome to the Buffalo Bar: An independently run bar and venue with full entertainment licence. In the heart of Islington, right outside Highbury & Islington tube. Great atmosphere, friendly staff, superb PA system and a great place to spend the evening.
Buffalo Bar London : Home
Plan B
Hootananny- Brixton
The Lexington
Finalists for the Fly 'Venue Of The Year' Award 2013 Finalists for the Music Week 'Venue Of The Year Award' 2010, 2012, 2013 & 2014 Runners Up Best Live Music Venue Award London Lifestyle Awards Finalists for the Time Out Music Week 'Venue Of The Year Award' 2012
The Windmill, Brixton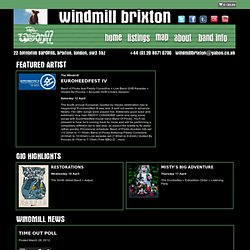 Thanks to everyone who voted us into 3rd place in Time Out's prestigious Best Live Music Venues in London poll. Considering we were just about the only minnow on the list, we're extremely pleased with that! Read the full story here > http://www.timeout.com/london/feature/2469/the-best-music-venues-in-london Vote for the Windmill in Time Out's Best London venue poll! We're extremely pleased to have been included in Time Out's poll of London's best music venues. We're in there with some big ones like The Royal Albert Hall and the Roundhouse but it would be great if you could give us a vote; we're the smallest venue on the list!
Jamm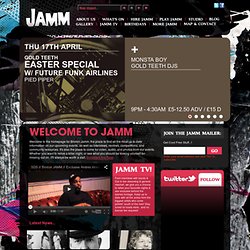 From interviews with bands & DJs to live streaming & general mischief, we give you a chance to relive your favourite nights & see exclusive behind the scenes footage. Keep up to date with all the antics from the biggest artists who come jammin' south of the river! Stay tuned for loads more.. and no license fee required! The Dandadda comes to Brixton Jamm this weekend! READ MORE Alan McGee talks Creation, creativity and new signings. READ MORE Interview with John Power (Cast/ The La's) READ MORE Jamm talks roots to Cecil Reuben READ MORE Foamo joins us for ALAN!