Metroid
Metroid Database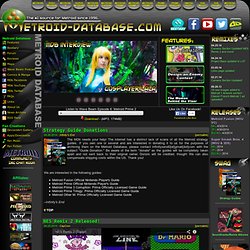 Metroid Fusion Released on WiiU eShop Today marks the release of Metroid Fusion for the WiiU Virtual Console, via the eShop (4/30 for our friends in Japan). It is one of a handful of classic GBA titles that are all making their way to the WiiU.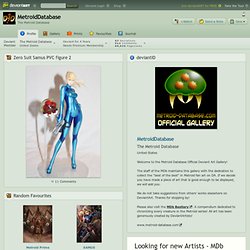 MD on DA
The Metroid Database is currently actively looking for new artists to join our Bestiary team. If you are interested, please email your artwork/portfolio to infinitysend0@gmail.com with "MDb Bestiary Artist" on the subject. A few things to note: Do NOT take it personally if you we do not get back to you. Those without artwork to show/portfolios will not be considered. The Bestiary is 100% volunteer only and we do not offer any compensation beyond the satisfaction of having your work displayed on our site.
WikiTroid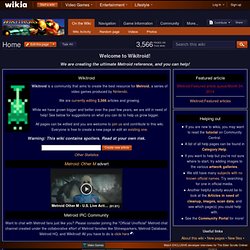 Wikitroid Wikitroid is a community that aims to create the best resource for Metroid, a series of video games produced by Nintendo. We are currently editing 3,534 articles and growing. While we have grown bigger and better over the past few years, we are still in need of help! See below for suggestions on what you can do to help us grow bigger.
Metroid Recon
In a somewhat random update, I've reconstructed our offering of the Super Metroid soundtrack to bring it closer to what it actually sounds like in the original Super Nintendo. After learning that I'd encoded the tracks in 44100Hz instead of the Super Nintendo's native 32000Hz output, I couldn't resist going back to redo the lot. While the lower frequency makes it sound slightly more muffled than before, it now sounds much, much closer to the original soundtrack you'd hear while playing Super Metroid on the SNES or the Virtual Console. I'd also like to take this moment to wish you all a Merry Christmas and a fantastic new year!
Metroid.com
Metroid
Metroid-Base