Auto Parts
Volvo Silicone Hose Kits, StylinMotors.com, Stylin'Motors Inc.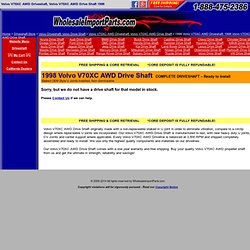 Volvo V70XC AWD Driveshaft - Volvo V70XC AWD Drive Shaft - Free Shipping
COMPLETE DRIVESHAFT – Ready to Install Staked OEM Style U Joints Installed, Non-Serviceable Sorry, but we do not have a drive shaft for that model in stock. Please Contact Us if we can help. Volvo V70XC AWD Drive Shaft originally made with a non-replaceable staked in U joint in order to eliminate vibration, compare to a circlip design where replaceable U joints are incorporated.
FCP Groton