DIY
Dew" It Yourself Jewelry Stand. Given that title and my penchant for puns, I'm guessing it will take you guys exactly 3.7 seconds to guess what my new jewelry stand is made from: Aw, you only needed two seconds, didn't you?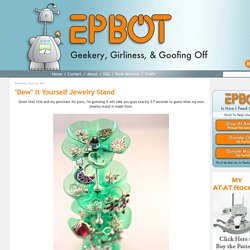 I knew it. Wax On, Wax Off - Homemade Hair Removal part 2. Growing up, Rebecca and Maggie had a friend whose family was from Egypt.
She told them about how her family made a sugar dough that they used to remove all their unwanted hair. The dough would be spread on their skin and then pulled off to remove the hair and then used over and over again. No strips needed. Unfortunately their friend and her family moved away before she could share this recipe. Homemade Laundry Detergent « Stars & Sunshine. Something I've seen on the internet and wanted to try is homemade laundry soap.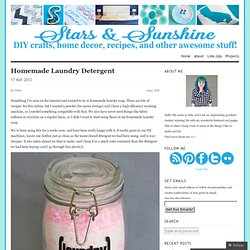 There are lots of 'recipes' for this online, but I wanted a powder (for easier storage) and I have a high efficiency washing machine, so I needed something compatible with that. We also have never used things like fabric softener or oxyclean on a regular basis, so I didn't want to start using those in my homemade laundry soap.
We've been using this for 3 weeks now, and have been really happy with it. DIY: crocheted rag rug part 2. Now the fun part!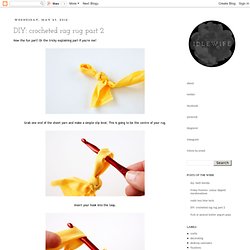 Or the tricky explaining part if you're me! Grab one end of the sheet yarn and make a simple slip knot. This is going to be the centre of your rug. Insert your hook into the loop. Pick up the long end of the fabric and loop it once over your hook. Easy To Make Felted Cat Toy « 7 Yaks Design. Felted Cat Toys You can make a cute felted cat toy with this easy method of felting.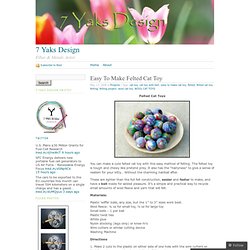 The felted toy is tough and chewy like pretend prey. It also has the "hairyness" to give a sense of realism for your kitty… Without the charming hairball after. These are lighter than the full felt construction, easier and faster to make, and have a bell inside for added pleasure. It's a simple and practical way to recycle small amounts of wool fleece and yarn that will felt. DIY Mouthwash. Hi friends!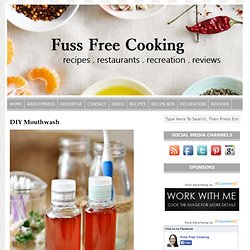 Today I am excited to share something different with you. Yes, it will require a little cooking…and yes, it will need edible ingredients you may find in your pantry. But the end result is something you may use in the morning and before bed? TLC Style "50 All Natural Beauty Products You Can Make Yourself". Body Butter Recipe. *Because of the popularity of this recipe on pinterest, I am getting many, many questions that are more suited for an expert.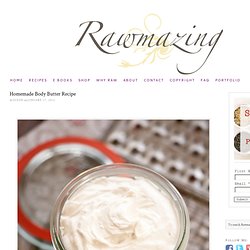 This is a raw food site, this was my first attempt at body butter, it worked better than I could have hoped for and if you make this recipe as stated, it will work great for you too!! I am sorry but I can't answer the technical questions. Cheers! * My Homemade Coconut Milk Shampoo. Handmade Mother's Day Gifts Under $10. Random Tutorial Generator. Saved By Love Creations – Craft Blog.
Handwriting tips. You've decided you want to improve your handwriting and you're probably hoping a fountain pen will do the trick -- maybe a friend told you it would.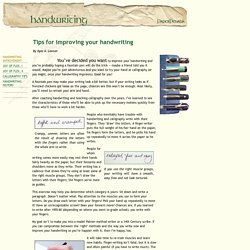 Maybe you're just adventurous and you want to try your hand at calligraphy (or you might, once your handwriting improves). Good for you! A fountain pen may make your writing look a bit better, but if your writing looks as if frenzied chickens got loose on the page, chances are this won't be enough. Most likely, you'll need to retrain your arm and hand. Fabric Button Earrings. I love the idea of using fabric buttons to decorate mundane things.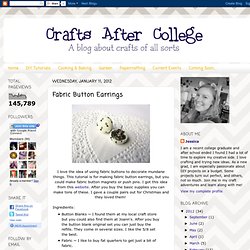 This tutorial is for making fabric button earrings, but you could make fabric button magnets or push pins. I got this idea from this website. DIY Vegan Deodorant « Vegan Beauty Review. Tired of searching for pure, chemical-free deodorant that doesn't cost a fortune?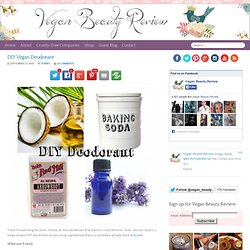 Yeah, me too! Here's a mega simple DIY deodorant recipe using ingredients that you probably already have at home! What you'll need: 1 tbsp baking soda3 tbsp arrowroot powder (or corn starch)2 tbsp of coconut oil5 drops of your favorite essential oil (lavender works well for this recipe)An empty container or jar. Makeup Tutorial: How To Create A Simple Smoky Eye & Makeup For Life - Beauty Advice, Makeup Tutorials, Celebrity Makeup, Product Reviews. Since you guys wanted to see more step-by-step tutorials, I will be doing a series of makeup tutorials starting with one of my favorite looks, smoky eyes.
One thing I LOVE about the smoky look is how versatile it is. You can use pretty much any color and you can go from a soft smoky to a really dramatic one. A Cup O' Joe: DIY Facial Scrub. The following article was written by PETA intern Sofia Hueter. Many of us are accustomed to the daily ritual of guzzling cup after cup of coffee to stay awake because it is so ingrained in our society that habitually drinking something with caffeine in it every few hours is the best way to fight fatigue.
Caffeine does, in fact, help to ward off our lingering morning drowsiness, but drinking coffee, though often delicious and enjoyable, is not the only way to get the caffeine fix that your body craves.
---