Joint Lock/Submission
Taiji Quan. Medical research has found evidence that t'ai chi is helpful for improving balance and for general psychological health, and that it is associated with general health benefits in older people.[2] Overview[edit] .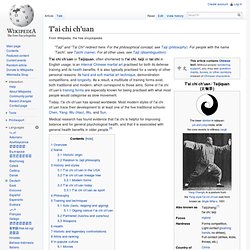 Chinese martial arts. Chinese martial arts, colloquially referred to as kung fu or gung fu (Chinese: 功夫; pinyin: gōngfu or Cantonese), and wushu (simplified Chinese: 武术; traditional Chinese: 武術; pinyin: wǔshù), are a number of fighting styles that have developed over the centuries in China.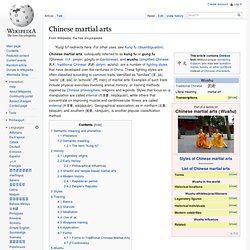 These fighting styles are often classified according to common traits, identified as "families" (家, jiā), "sects" (派, pài) or "schools" (門, mén) of martial arts. Examples of such traits include physical exercises involving animal mimicry, or training methods inspired by Chinese philosophies, religions and legends. Jujutsu. Jujutsu (/dʒuːˈdʒuːtsuː/; Japanese: 柔術, jūjutsu listen , Japanese pronunciation: [ˈdʑɯɯ.dʑɯ.tsɯ]) is a Japanese martial art and a method of close combat for defeating an armed and armored opponent in which one uses no weapon or only a short weapon.[1][2] The word jujutsu can be spelled as ju-jitsu/jujitsu, ju-jutsu.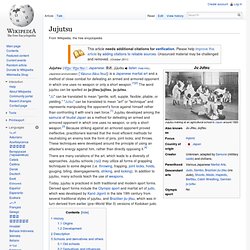 "Jū" can be translated to mean "gentle, soft, supple, flexible, pliable, or yielding. " "Jutsu" can be translated to mean "art" or "technique" and represents manipulating the opponent's force against himself rather than confronting it with one's own force.[1] Jujutsu developed among the samurai of feudal Japan as a method for defeating an armed and armored opponent in which one uses no weapon, or only a short weapon.[3] Because striking against an armored opponent proved ineffective, practitioners learned that the most efficient methods for neutralizing an enemy took the form of pins, joint locks, and throws.
Hapkido. The art adapted from Daitō-ryū Aiki-jūjutsu (大東流合気柔術) as it was taught by Choi Yong-Sool (Hangul: 최용술) when he returned to Korea after World War II, having lived in Japan for 30 years.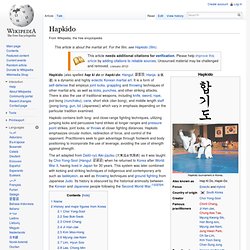 This system was later combined with kicking and striking techniques of indigenous and contemporary arts such as taekkyeon, as well as throwing techniques and ground fighting from Japanese Judo. Its history is obscured by the historical animosity between the Korean and Japanese people following the Second World War.[1][2][3][4] Name[edit] Hapkido is rendered "합기도" in the native Korean writing system known as hangul, the script used most widely in modern Korea.
The art's name can also however be written "合氣道" utilizing the same traditional Chinese characters which would have been used to refer to the Japanese martial art of aikido in the pre-1946 period. Brazilian Jiu-Jitsu. Brazilian jiu-jitsu (/dʒuːˈdʒɪtsuː/; Portuguese: [ˈʒiw ˈʒitsu], [ˈʒu ˈʒitsu], [dʒiˈu dʒiˈtsu]) (BJJ) is a martial art, combat sport, and a self defense system that focuses on grappling and especially ground fighting.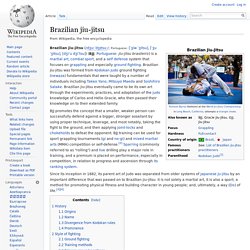 Brazilian jiu-jitsu was formed from early 20th century Kodokan Judo ground fighting (Ne-Waza) fundamentals that were taught to Luiz França and Carlos Gracie by master Mitsuyo Maeda. Brazilian jiu-jitsu eventually came to be its own art through the experimentations, practices, and adaptation from the Judo knowledge of Carlos and Hélio Gracie, who then passed their knowledge on to their extended family. History[edit] Aikido. Aikido (Japanese: 合気道, Hepburn: Aikidō?)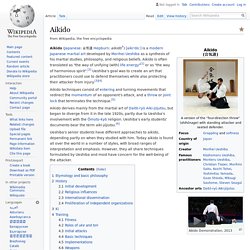 [a.i.ki.doː] is a Japanese martial art developed by Morihei Ueshiba as a synthesis of his martial studies, philosophy, and religious beliefs. Aikido is often translated as "the Way of unifying (with) life energy"[1] or as "the Way of harmonious spirit.
---