Joint Lock/Submission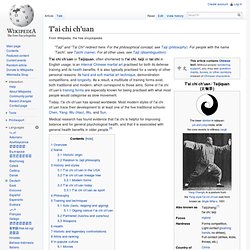 T'ai chi ch'uan or Taijiquan , often shortened to t'ai chi , taiji or tai chi in English usage, is an internal Chinese martial art practiced for both its defense training and its health benefits. It is also typically practiced for a variety of other personal reasons: its hard and soft martial art technique , demonstration competitions, and longevity . As a result, a multitude of training forms exist, both traditional and modern, which correspond to those aims.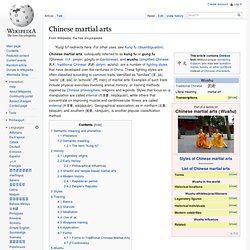 Chinese martial arts
Chinese martial arts , popularly referred to as kung fu or gung fu (Chinese: 功夫 ; pinyin: gōngfu ), and also by the Mandarin Chinese term wushu ( simplified Chinese : 武术 ; traditional Chinese : 武術 ; pinyin : wǔshù ), are a number of fighting styles that have developed over the centuries in China . These fighting styles are often classified according to common traits, identified as "families" (家, jiā), "sects" (派, pài) or "schools" (門, mén) of martial arts. Examples of such traits include physical exercises involving animal mimicry, or training methods inspired by Chinese philosophies , religions and legends.
Jujutsu ( English pronunciation: /dʒuˈdʒʌtsu/ ; Japanese : 柔術, jūjutsu listen , Japanese pronunciation: [ˈdʑɯɯ.dʑɯ.tsɯ] ) is a Japanese martial art and a method of close combat for defeating an armed and armored opponent in which one uses no weapon or only a short weapon. [ 1 ] [ 2 ] The word jujutsu is often spelled as jujitsu , ju-jitsu , jiu-jutsu or jiu-jitsu . " Jū " can be translated to mean "gentle, supple, flexible, pliable, or yielding." " Jutsu " can be translated to mean "art" or "technique" and represents manipulating the opponent's force against himself rather than confronting it with one's own force. [ 1 ] Jujutsu developed among the samurai of feudal Japan as a method for defeating an armed and armored opponent in which one uses no weapon, or only a short weapon. [ 3 ] Because striking against an armored opponent proved ineffective, practitioners learned that the most efficient methods for neutralizing an enemy took the form of pins, joint locks, and throws.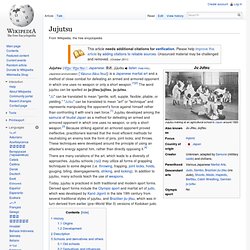 Hapkido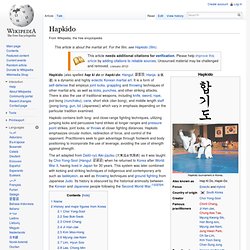 Hapkido (also spelled hap ki do or hapki-do ; Hangul : 합기도 ; Hanja : 合氣道) is a dynamic and also eclectic Korean martial art . It is a form of self-defense that employs joint locks , techniques of other martial arts, as well as kicks, punches, and other striking attacks. There is also the use of traditional weapons, including a sword , rope , nunchaku , cane , short stick, and staff ( bong , gun , bō ) which vary in emphasis depending on the particular tradition examined. Hapkido contains both long and close range fighting techniques, utilizing jumping kicks and percussive hand strikes at longer ranges and pressure point strikes, joint locks, or throws at closer fighting distances. Hapkido emphasizes circular motion, non-resisting movements, and control of the opponent. Practitioners seek to gain advantage through footwork and body positioning to incorporate the use of leverage, avoiding the use of strength against strength.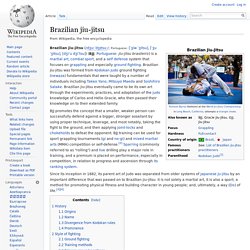 Brazilian Jiu-Jitsu
Brazilian jiu-jitsu ( / dʒ uː ˈ dʒ ɪ t s uː / ; Portuguese: [ˈʒiw ˈʒitsu] , [ˈʒu ˈʒitsu] , [dʒiˈu dʒiˈtsu] ) (' BJJ , or Brazilian Jiu-Jitsu ) is a martial art , combat sport , and a self defense system that focuses on grappling and especially ground fighting . Brazilian jiu-jitsu was formed from Kodokan Judo ground fighting (Ne-Waza) fundamentals that were taught to Carlos Gracie by master Mitsuyo Maeda . Brazilian jiu-jitsu eventually came to be its own art through the experimentations, practices, and adaptation from the Judo knowledge of Carlos and Helio Gracie, who then passed their knowledge onto their family. BJJ promotes the concept that a smaller, weaker person can successfully defend against a bigger, stronger assailant by using leverage and proper technique, taking the fight to the ground – most notably by applying joint-locks and chokeholds to defeat the other person.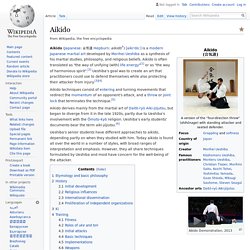 Aikido ( Japanese : 合気道 , Hepburn : Aikidō ? ) [a.i.ki.doː] is a Japanese martial art developed by Morihei Ueshiba as a synthesis of his martial studies, philosophy, and religious beliefs. Aikido is often translated as "the Way of unifying (with) life energy " [ 1 ] or as "the Way of harmonious spirit." [ 2 ] Ueshiba's goal was to create an art that practitioners could use to defend themselves while also protecting their attacker from injury. [ 3 ] [ 4 ]