Local
Mates fall out over brothel bill | Offbeat | Weird News, Odd and Freaky Stories in Toowoomba. USING his mate's credit card to pay for prostitution at Toowoomba brothel Deviations has cost Braden Iliffe almost $2000 and a friendship.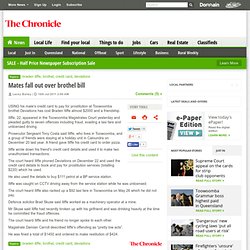 Iliffe, 22, appeared in the Toowoomba Magistrates Court yesterday and pleaded guilty to seven offences including fraud, evading a taxi fare and unlicensed driving. Prosecutor Sergeant Tony Costa said Iliffe, who lives in Toowoomba, and a group of friends were staying at a holiday unit in Caloundra on December 20 last year. A friend gave Iliffe his credit card to order pizza. Iliffe wrote down his friend's credit card details and used it to make two unauthorised transactions. The court heard Iliffe phoned Deviations on December 22 and used the credit card details to book and pay for prostitution services (totalling $220) which he used.
Maridahdi opponents want closure. RESIDENTS who lobbied to have a school banned from their neighbourhood want the ongoing saga brought to an end.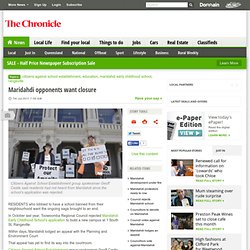 In October last year, Toowoomba Regional Council rejected Maridahdi Early Childhood School's application to build a new campus at 1 South St, Rangeville. Within days, Maridahdi lodged an appeal with the Planning and Environment Court. That appeal has yet to find its way into the courtroom. Citizens Against School Establishment group spokesman Geoff Castle said residents had not heard from Maridahdi since the school's application was rejected. "We've given our legal team all the information, everything we did and everything we researched," he said. Who will miss me if I die alone? WHO will miss me?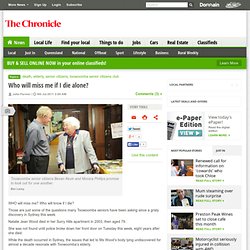 Who will know if I die? Those are just some of the questions many Toowoomba seniors have been asking since a grisly discovery in Sydney this week. Natalie Jean Wood died in her Surry Hills apartment in 2003, then aged 79. She was not found until police broke down her front door on Tuesday this week, eight years after she died. Butcher boys beef up for calendar. MEET the boys who put the beef in beefcake — just don't mention smallgoods.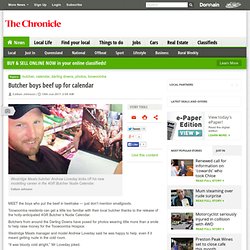 Toowoomba residents can get a little too familiar with their local butcher thanks to the release of the hotly-anticipated 4GR Butcher's Nudie Calendar. Butchers from around the Darling Downs have posed for photos wearing little more than a smile to help raise money for the Toowoomba Hospice. Westridge Meats manager and model Andrew Loveday said he was happy to help, even if it meant getting nude in the cold room. City awaits icy blast. TOOWOOMBA residents could be seeing the first below-zero temperatures of the year this weekend as morning temperatures are set to drop considerably from tomorrow.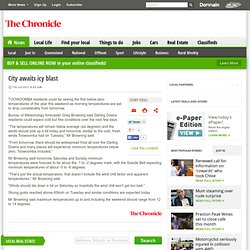 Bureau of Meteorology forecaster Greg Browning said Darling Downs residents could expect cold but fine conditions over the next few days. "The temperatures will remain below average (six degrees) and the winds should pick up a bit today and tomorrow, similar to the cold, fresh winds Toowoomba had on Tuesday," Mr Browning said.
---