Local
Mates fall out over brothel bill | Offbeat | Weird News, Odd and Freaky Stories in Toowoomba | Toowoomba Chronicle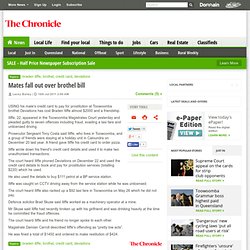 USING his mate's credit card to pay for prostitution at Toowoomba brothel Deviations has cost Braden Iliffe almost $2000 and a friendship. Iliffe, 22, appeared in the Toowoomba Magistrates Court yesterday and pleaded guilty to seven offences including fraud, evading a taxi fare and unlicensed driving. Prosecutor Sergeant Tony Costa said Iliffe, who lives in Toowoomba, and a group of friends were staying at a holiday unit in Caloundra on December 20 last year. A friend gave Iliffe his credit card to order pizza. Iliffe wrote down his friend's credit card details and used it to make two unauthorised transactions. The court heard Iliffe phoned Deviations on December 22 and used the credit card details to book and pay for prostitution services (totalling $220) which he used.
Maridahdi opponents want closure
Who will miss me if I die alone?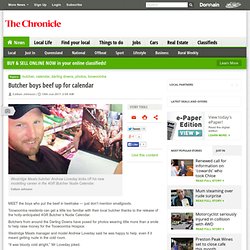 Butcher boys beef up for calendar
MEET the boys who put the beef in beefcake — just don't mention smallgoods. Toowoomba residents can get a little too familiar with their local butcher thanks to the release of the hotly-anticipated 4GR Butcher's Nudie Calendar. Butchers from around the Darling Downs have posed for photos wearing little more than a smile to help raise money for the Toowoomba Hospice. Westridge Meats manager and model Andrew Loveday said he was happy to help, even if it meant getting nude in the cold room.
City awaits icy blast