Joy Division
Joy Division - Twenty Four Hours. So this is permanent, love's shattered pride.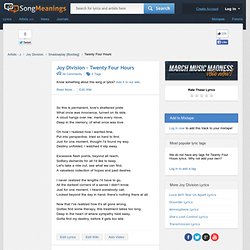 What once was innocence, turned on its side. A cloud hangs over me, marks every move, Deep in the memory, of what once was love. Oh how I realized how I wanted time, Put into perspective, tried so hard to find, Just for one moment, thought I'd found my way. Destiny unfolded, I watched it slip away. Joy Division - Shadowplay. To the center of the city where all roads meet, waiting for you, To the depths of the ocean where all hopes sank, searching for you, I was moving through the silence without motion, waiting for you, In a room with a window in the corner I found truth.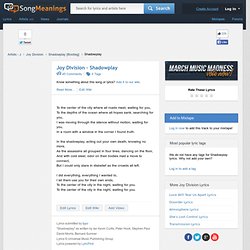 In the shadowplay, acting out your own death, knowing no more, As the assassins all grouped in four lines, dancing on the floor, And with cold steel, odor on their bodies mad a move to connect, But I could only stare in disbelief as the crowds all left. I did everything, everything I wanted to, I let them use you for their own ends, To the center of the city in the night, waiting for you. To the center of the city in the night, waiting for you. Artists | Joy Division | Songs. Formed in the wake of the punk explosion in England, Joy Division became the first band in the post-punk movement by later emphasizing not anger and energy but mood and expression, pointing ahead to the rise of melancholy alternative music in the '80s.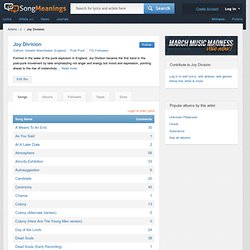 Though the group's raw initial sides fit the bill for any punk band, Joy Division later incorporated synthesizers (taboo in the low-tech world of '70s punk) and more haunting melodies, emphasized by the isolated, tortured lyrics of its lead vocalist, Ian Curtis. While the British punk movement shocked the world during the late '70s, Joy Division's quiet storm of musical restraint and emotive power proved to be just as important to independent music in the 1980s. The band was founded in early 1977, soon after the Sex Pistols had made their first appearance in Manchester. Guitarist Bernard Albrecht (b. Joy Division - Atmosphere. Walk in silence, Don't walk away, in silence.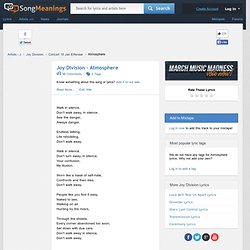 See the danger, Always danger, Endless talking, Life rebuilding, Don't walk away. Walk in silence, Don't turn away, in silence. Your confusion, My illusion,
---