Indie
Indie RPG List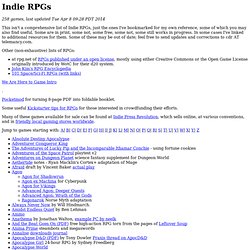 217 games, last updated Thu Mar 28 19:32:45 UTC 2013 This isn't a comprehensive list of Indie RPGs, just the ones I've bookmarked for my own reference, some of which you may also find useful. Some are in print, some not, some free, some not, some still works in progress. In some cases I've linked to additional resources for them. Some of these may be out of date; feel free to send updates and corrections to cdr AT telemancy.com. Other (non-exhaustive) lists of RPGs:
new • universal • rules-lite • long • live-action • online • supplement • preview • wotc-d20 • world • genre • open-license • horror • modern • scifi • fantasy • traditional • postapocalyptic • superhero • Index The Action! System by Mark Arsenault, Patrick Sweeney, and Ross Winn Keywords: universal long preview open-license A universal system, whose version 1.1 is released under the WotC Open Gaming License.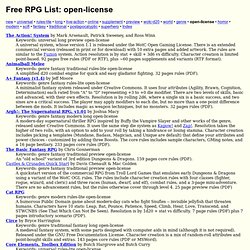 Free RPG List Entries: open-license
1KM1KT is a free site devoted to independent RPG authors and developers seeking online exposure for their games. This is a collection of games, and links to games, that I've collected over the past decade. I'm always looking for more games, so if you have one to donate, please mail the web address to chris@homebrew.net . I prefer to just link to games, so that the author has complete control over the content, but if you have no place to keep the game, I might host it for you if it isn't too big. If you are looking for computer or online games, this is not the place for you. These are all just pencil-and-paper roleplaying game rules. These Are Our Games |
Nørwegian Style
Story.Games
The Window