Torchwood
La BBC refuse de s'excuser pour la diffusion de scènes d'amour gay dans une série - Grande-Bretagne. Commentaires azulpride super intelligent et courageux.............ces Anglais...........rien a ajouter denis Qui n'a pas vu les baisers sur la bouche de Brejniev à ses invités, aux actualités télévisées, il y a longtemps ?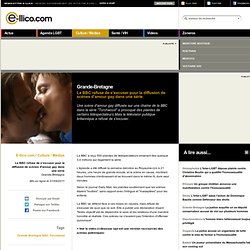 Torchwood : Six infos qui feront que la saison 4 changera tout (spoilers) Le tournage de Torchwood : The New World ne débutera pas avant l'année prochaine, mais nous en savons un peu plus !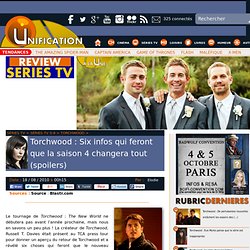 La créateur de Torchwood, Russell T. Davies était présent au TCA press tour pour donner un aperçu du retour de Torchwood et a révélé six choses qui feront que le nouveau Torchwood sera plus grand et meilleur que jamais. C'est un événement à suivre sur 10 épisodes Davies ne révèle pas quel genre d'événement mondial va réunir Torchwood, mais il garantit qu'il faudra visionner les dix heures de The New World lorsque la série sera de nouveau à l'antenne sur Starz, la chaîne câblée américaine. « C'est bien plus compliqué que de lutter contre un seul monstre » déclare-t-il. « Je trouve que c'est une idée brillante et lorsque vous la comprendrez, cela prendra tout son sens, et vous constaterez à quel point c'est énorme. L'histoire aurait pu tenir 20 heures.
More Details For "Torchwood: The New World" | TV Show Recaps, Celebrity Interviews & News About Gay & Bisexual Men. By snicks | To say that interest in the fourth iteration of Torchwood is intense would be an understatement.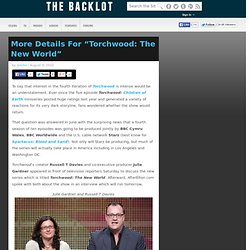 Ever since the five episode Torchwood: Children of Earth miniseries posted huge ratings last year and generated a variety of reactions for its very dark storyline, fans wondered whether the show would return. Doctor Who Online - News. Will Brooks' 50 Year Diary - watching Doctor Who one episode a day from the very start...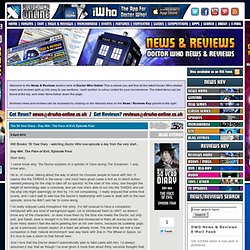 Day 461: The Face of Evil, Episode One Dear diary, When I was watching Genesis of the Daleks, I mentioned a work colleague who used to watch Doctor Who back in the 1970s, but only really has a passing interest in the show these days. Every now and then, he asks me how the marathon is going, and I update him as to my whereabouts in the run. I told him the other day that Sarah Jane had just left the TARDIS, and his face completely lit up. Torchwood - Official Torchwood Children Of Earth site. John Barrowman's Torchwood Sexual Adventures Headed to U.S. / Qu. John Barrowman News: Just wanted to share the n...
---