Sida & Prévention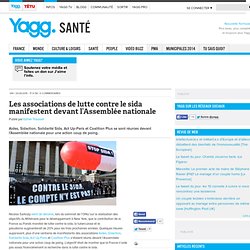 Les associations de lutte contre le sida manifestent devant l'Assemblée nationale
Nicolas Sarkozy vient de déclarer , lors du sommet de l'ONU sur la réalisation des objectifs du Millénaire pour le développement à New York, que la contribution de la France au Fonds mondial de lutte contre le sida, la tuberculose et le paludisme augmenterait de 20% pour les trois prochaines années. Quelques heures auparavant, plus d'une centaine de manifestants des associations Aides , Sidaction , Solidarité Sida , Act Up Paris et Coalition Plus s'étaient réunis devant l'Assemblée nationale pour une action coup de poing.
Après vingt années pendant lesquelles nous nous sommes battus contre l'idée du « cancer gay », le concept réapparaît à nouveau. Merci le relapse et le bareback.
Le sida, tout de suite - Minorités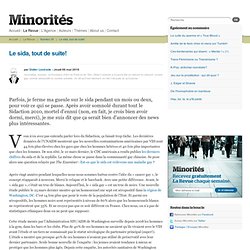 More than 14 percent of gay men in the District are HIV positive, almost five times as high as the overall rate for the city's adults and teenagers, according to a snapshot of the community released Thursday by the D.C.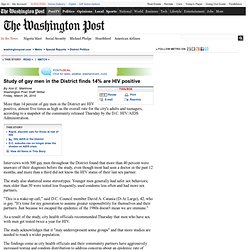 Study of gay men in the District finds 14% are HIV positive
TAG - Treatment Action Group
SAN FRANCISCO (KGO) -- Patients recently diagnosed with HIV are being advised to take their medicines right away -- not to wait even if they have no symptoms. The San Francisco Department of Public Health is the first in the nation to adopt this new policy and it comes with some controversy. The new guidelines will be announced next week by the San Francisco Department of Public Health.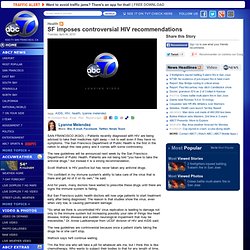 San Francisco imposes controversial HIV recommendations for pati
Sida: «Il faut dépister plus et mieux»
C'est peut-être parce que la position du CDC reste très prudente. Le rapport confirme que la prise d'une multithérapie d'ARV pourrait réduire significativement le risque de contamination quand la charge virale baisse au point de devenir indétectable.
Le CDC donne son avis sur le TasP - Minorités
HIV/AIDS a gay man's disease? Again?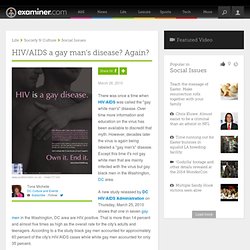 There was once a time when HIV/AIDS was called the "gay white man's" disease. Over time more information and education on the virus has been available to discredit that myth. However, decades later the virus is again being labeled a "gay man's" disease. Except this time it's not gay white men that are mainly infected with the virus but gay black men in the Washington, DC area.
Resistance develops in 17% of patients starting HIV treatment in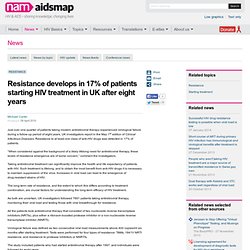 Just over one-quarter of patients taking modern antiretroviral therapy experienced virological failure during a follow-up period of eight years, UK investigators report in the May 1 st edition of Clinical Infectious Diseases . Resistance to at least one class of anti-HIV drugs was detected in 17% of patients. "When considered against the background of a likely lifelong need for antiretroviral therapy, these levels of resistance emergence are of some concern," comment the investigators. Taking antiretroviral treatment can significantly improve the health and life expectancy of patients with HIV. Such treatment is lifelong, and to obtain the most benefit from anti-HIV drugs it is necessary to maintain suppression of the virus. Increases in viral load can lead to the emergence of drug-resistant strains of HIV.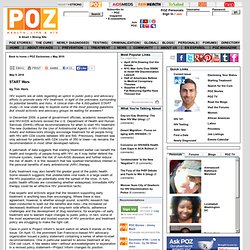 POZ Magazine - POZ.com - Web Exclusives : START Wars - by Tim Ho
May 5, 2010 START Wars
With several efforts underway to increase the local production of drugs in developing countries, Tatum Anderson assesses the pros and cons of manufacturing medicines in Africa. A drugs producer in Uganda has become the first in a least developed country (LDC)—a category reserved for the world's poorest nations—to achieve a world-class seal of quality for its manufacturing standards. The Quality Chemicals plant, in the Ugandan capital Kampala, is the first to get this far along the so-called WHO pre-qualification process; a stringent quality check imposed on manufacturers of drugs.
Tide turns for drug manufacturing in Africa
Le Kiosque Information Sida Toxicomanie
« Oh là, vas-y les clichés, comme si être gay c'était juste les drogues, les clubs et suivre la mode !
Très chers gays, je ne vous comprends plus