Services
<p>JavaScript required to play <a hreflang="en" type="video/mp4" href="http://videos.videopress.com/HNyK67JS/sequence-01_dvd.mp4" rel="noreferrer">Introducing Gravatar</a>.</p> Pour les Titulaires de Site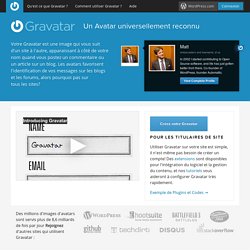 We have always pursued innovative projects because we want to drive breakthroughs in computer science that dramatically improve our users' lives. Last year at Google I/O, when we launched our developer preview of Google Wave, a web app for real time communication and collaboration, it set a high bar for what was possible in a web browser. We showed character-by-character live typing, and the ability to drag-and-drop files from the desktop, even "playback" the history of changes—all within a browser. Developers in the audience stood and cheered.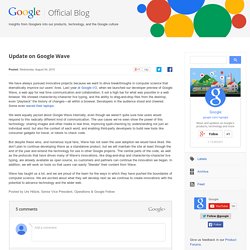 Update on Google Wave
Google met fin à l'expérience "Wave"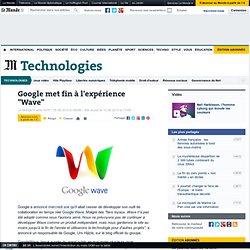 Google a annoncé mercredi soir qu'il allait cesser de développer son outil de collaboration en temps réel Google Wave. Malgré des "fans loyaux, Wave n'a pas été adopté comme nous l'aurions aimé. Nous ne prévoyons pas de continuer à développer Wave comme un produit indépendant, mais nous garderons le site au moins jusqu'à la fin de l'année et utiliserons la technologie pour d'autres projets", a annoncé un responsable de Google, Urs Hijlzle, sur le blog officiel du groupe. GoogleWave, lancé auprès du grand public en mai après plusieurs mois d'existence expérimentale, est un outil de travail collaboratif en temps réel, à mi-chemin entre la messagerie instantanée et le partage de documents basé sur un nouveau protocole d'échange de données. Généralement jugé compliqué d'utilisation, le service avait connu un succès limité, malgré des critiques enthousiastes lors de son lancement.
Google Wave ne sera plus développé, et le service pourrait s'arrêter dès la fin de cette année. L'annonce qui vient de tomber sur le blog de Google n'a rien de surprenant tant Google avait échoué à faire adopter le produit par le grand public. Un concentré de bonnes idées un peu trop innovantes disposées sur une interface un peu trop nerd à appréhender pour le grand public, Wave aurait pu jouer un rôle crédible – et gratuit – sur le marché des réseaux sociaux d'entreprise à destination des TPE et PME.
Google abandonne Wave : 3 leçons de pragmatisme appliqué à l'innovation : Ergonomie Web, Expérience Utilisateur et Ruby On Rails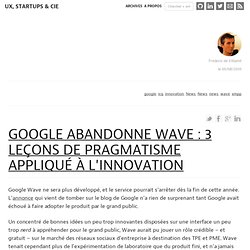 Google Wave, c'est fini
Google Wave, un fiasco ? | Blog de Référencement & Services Web
Google Wav, c'est fini. Le projet est officiellement abandonné par Google, mais restera en ligne jusqu'à la fin de l'année 2010. J'ai appris la nouvelle cette nuit, aux alentours de minuit, sur Mashable (US). Nous avions déjà pris conscience de cet « échec », notamment depuis que les rumeurs de « Google me » se sont propagées.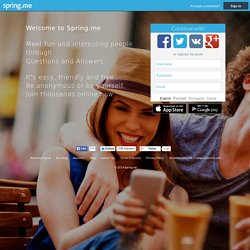 Be yourself. Be anonymous. Be anyone. Ask and answer - anything and anybody! Join the conversation now... You need to join to continue
Soubi | formspring.me
Profile | SoubiTW