Portal 2
Mimachan's post on Vine. Soubi_ : GÂTEAU made in @krapomusic... Photo by soubi_ Nyan Turret. Notthatjesus: Portal themed bedroom.  Official Portal 2 Website - Music. Soubi's World. Foursquare. Stec13: I love Portal… "Companion Cube" by. Portal 2 : interview et trailer pour le coop. Portal 2 Co-Op Robot Trailer Video from GameVideos. Ledixiemeart: Lego Portal (en référence au jeu. Soubi's World (quotilol: The cake is a lie. #PORTAL) Portal 2 : Valve lâche une caisse d'images. Video: Portal 2 Gameplay Will Make You Laugh. Wheatley Trailer - Vidéo de Portal 2 sur PC. Portal 2 : Aperture Science présente ses découvertes. Soubi's World (Love your cube. #portal (via quotilol)) Portal 2 New GamesCom 2010 Trailer + Added Material. Video Interview: Portal 2's Erik Wolpaw. By Andrew Yoon on Jun 16th 2010 5:00PM Although Portal was just a simple story of a girl and her cake, it was one of the most memorable gaming experiences of the generation thus far.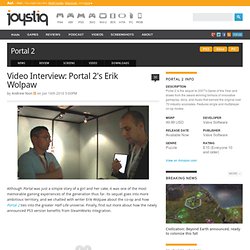 Its sequel goes into more ambitious territory, and we chatted with writer Erik Wolpaw about the co-op and how Portal 2 ties into the greater Half-Life universe. Finally, find out more about how the newly announced PS3 version benefits from SteamWorks integration. Wolpaw & Lombardi Talk About Portal 2. By John Walker on June 16th, 2010 at 5:40 pm.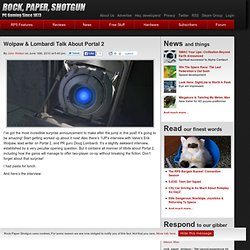 I've got the most incredible surprise announcement to make after the jump in this post! It's going to be amazing! Start getting worked up about it now! Also there's 1UP's interview with Valve's Erik Wolpaw, lead writer on Portal 2, and PR guru Doug Lombardi.
---