NetNeutrality
Assemblée nationale : Neutralité de l'Internet. "ça vous regarde" : après le débat !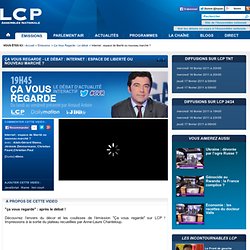 Découvrez l'envers du décor et les coulisses de l'émission "Ça vous regarde" sur LCP ! Impressions à la sortie du plateau recueillies par Anne-Laure Chanteloup. La neutralité du Net ou la neutralité du réseau est un principe fondateur d'Internet qui exclut toute discrimination à l'égard de la source, de la destination ou du contenu de l'information transmise sur le réseau. WSJ: ISP Victory on Net Neutrality. FCC Chairman Julius Genachowski spoke Wednesday, offering a roadmap to net neutrality rules and regulations that he and other commissioners will discuss and inevitably vote on at the FCC's December 21 meeting.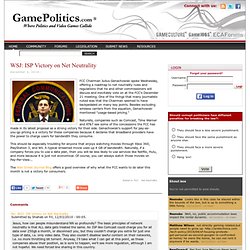 One of the things that many journalists noted was that the Chairman seemed to have backpedaled on many key points. Besides excluding wireless carriers from the equation, Genachowski mentioned "usage-based pricing. " Naturally, companies such as Comcast, Time Warner and AT&T see some of the concessions the FCC has made in its latest proposal as a strong victory for their side.
Genachowski's support for pay-as-you-go pricing is a victory for these companies because it declares that broadband providers have the power to charge users for bandwidth they consume. This should be especially troubling for anyone that enjoys watching movies through Xbox 360, PlayStation 3, and Wii. Mediakit.laquadrature.net/get.php?id=587. La Quadrature répond à la consultation européenne sur la directive Internet.
La Quadrature du Net a envoyé sa réponse à la consultation de la Commission européenne sur la directive e-Commerce (ou directive sur les services de la société de l'information).
La révision de la directive de 2000 sur le commerce électronique (ou directive sur les services de la société de l'information) est très importante pour l'avenir des droits et libertés sur Internet, en particulier ses articles 12 à 15 qui fondent le régime de responsabilité juridique des fournisseurs de services sur Internet. Ces dispositions innovantes ont un impact direct sur la liberté d'expression des utilisateurs d'internet. Elles sont donc essentielles pour la protection du potentiel de démocratisation d'Internet. The Tea Party and Net Neutrality. Could the Tea Party ultimately help to pass net neutrality legislation?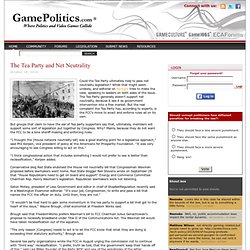 While that might seem unlikely, and editorial on Nextgov tries to make the case, speaking to leaders on both sides of the issue. The Tea Party generally doesn't support net neutrality, because it see it as government intervention into a free market. But the real complaint the Tea Party has, according to experts, is the FCC's move to enact and enforce rules all on its own. But groups that claim to have the ear of Tea party supporters say that, ultimately, members will support some sort of legislation put together by Congress. Why? Tea Party could help net neutrality, leaders say. Etats-Unis : la loi sur la neutralité du net passe à  la trappe. Aux États-Unis, le débat sur la neutralité du net vient de prendre un nouveau tournant.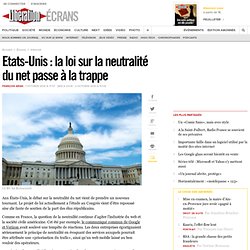 Le projet de loi actuellement a l'étude au Congrès vient d'être repoussé sine die faute de soutien de la part des élus républicains. Comme en France, la question de la neutralité continue d'agiter l'industrie du web et la société civile américaine. Study: Net Neutrality Good for the Economy. Today a study points out that implementing net neutrality rules now is good for the economy.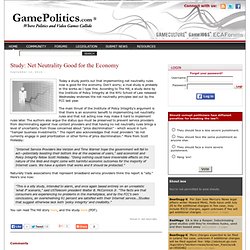 Don't worry; a rival study is probably in the works as I type this. According to The Hill, a study done by the Institute of Policy Integrity at the NYU School of Law released Wednesday endorses the net neutrality principles laid out by the FCC last year. Avec le rapport Gallo, c'est la ©ulture qui a gagné. C'est plié : avec 328 voix pour et 245 contre (et 80 abstentions), le rapport Gallo a été adopté aujourd'hui en commission plénière par le Parlement Européen à Strasbourg.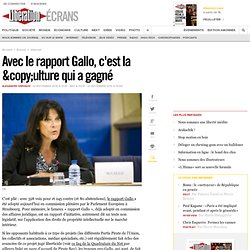 Pour mémoire, le fameux « rapport Gallo », déjà adopté en commission des affaires juridique, est un rapport d'initiative, autrement dit un texte non législatif, sur l'application des droits de propriété intellectuelle sur le marché intérieur. Si les opposants habituels à ce type de projets (les différents Partis Pirate de l'Union, les collectifs et associations, médias spécialisés, etc.) ont régulièrement fait écho des avancées de ce projet jugé liberticide (voir ce faq de la Quadrature du Net par ailleurs linké en page d'accueil de Pirate Bay), les troupes pro-Gallo, qui sont, de fait pro-ACTA ( lire l'article ) et impatient de voir l'Hadopi prendre son envol, n'ont pas été en reste niveau lobbyisme.
Vodafone aurait interdit le P2P sur ses accès haut-débit. Quel impact pour SFR ? - Numerama. Les jours du peer-to-peer en Europe sont-ils comptés ?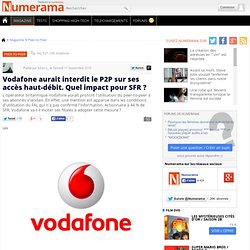 À en croire nos confrères de Torrenfreak, l'opérateur britannique a apporté un changement d'importance dans ses conditions d'utilisation destinées aux abonnements haut-débit irlandais. En effet, une mention indique que l'utilisation de la technologie P2P est proscrite : "le service ne peut être utilisé pour le peer-to-peer". Dans les faits, le peer-to-peer subit déjà d'importantes restrictions dans le domaine de la téléphonie mobile. En France, les opérateurs mobiles ont l'habitude d'interdire certains usages sur leur réseau. Net Neutrality Talks Continue as Deadline Looms. Broadcasting & Cable reports that progress is being made in talks between the FCC and stakeholders.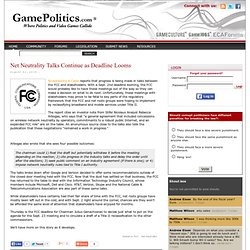 With a Sept. 2nd deadline looming, the FCC would probably like to have these meetings out of the way so they can make a decision on what to do next. Unfortunately, these meetings with stakeholders may prove to be fatal to key parts of the regulatory framework that the FCC and net roots groups were hoping to implement by reclassifying broadband and mobile services under Title II.
The report cites an investor note from Stifel Nicolaus Analyst Rebecca Arbogas, who says that "a general agreement that included concessions on wireless network neutrality by operators, commitments to a robust public Internet, and an expanded FCC role" are on the table. An anonymous source close to the talks also tells the publication that these negotiations "remained a work in progress.
" AT&T: Net Neutrality & Rewriting History. AT&T made a claim this week in a letter to the FCC that has agitated Internet Engineering Task Force to no end.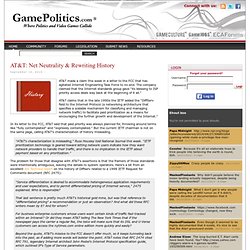 The company claimed that the Internet standards group gave "its blessing to ISP priority access deals way back at the beginning of it all. " AT&T claims that in the late 1990s the IETF added the "DiffServ field to the Internet Protocol (a networking architecture that specifies a scalable mechanism for classifying and managing network traffic) to facilitate paid prioritization as a means for encouraging the further growth and development of the Internet. " In its letter to the FCC, AT&T said that paid priority was always planned for, throwing around terms like "fully contemplated" and "expressly contemplated.
" But the current IETF chairman is not on the same page, calling AT&T's characterization of history misleading. Intellectual Property Watch » Blog Archive » US Internet Neutrality Flare-Up Resonates Across International Front. A network neutrality policy proposed recently by industry giants Google and Verizon not only sparked controversy here in the United States, but the news is making waves internationally as well. The proposal aims to ensure network (or "Net") neutrality for wireline internet services but not for rapidly growing wireless ones. It also calls for "full transparency" across both wireline and wireless broadband platforms, and calls for the FCC to have authority to adjudicate user complaints and impose injunctions and penalties against bad actors. Pro-neutrality groups such as Public Knowledge, Open Internet Coalition, and members of the SavetheInternet.com Coalition, blasted the proposal as one that would only benefit industry behemoths and would be a detriment to startups, consumers, and others.
They argue in favour of neutrality for all parts of the internet and against allowing service providers to block or restrict certain users over others. Government Filtering: Not the Answer. Awhile back, in response to a particularly naive column defending Australia's proposed Internet filter on the basis that it will protect kids from child pornography, I wrote a piece on the HuffPost explaining why filtering isn't the solution. Yet, similar articles keep cropping up. Most recently, CJ Lambert, writing for New Zealand's 3 News, argues that "normal people" should ask their ISPs to take action: The normal people need to start making more noise and telling their providers that they want to look at pussy cat images (and not that other kind that comes up in Google).
While I find this particular request a bit bewildering (what's wrong with adults looking at adult porn?) A propos de neutralité du Net. Des élus américains s'engagent en faveur de la neutralité du net - Numerama. Ces dernières semaines, le principe de la neutralité du net a été particulièrement malmenée aux États-Unis. Début août, le New York Times dévoilait un accord controversé entre Google et Verizon, un important FAI américain. Dans le détail, les deux entreprises s'étaient accordées pour hiérarchiser le trafic sur l'Internet mobile.
La polémique a pris une telle ampleur que les deux sociétés ont été contraintes de démentir, sans vraiment convaincre.
En France. La neutralité du Net, c'est quoi exactement? Depuis une semaine, Verizon et Google sont accusés de vouloir mettre à mal la neutralité du net par une proposition de «cadre législatif» du Web, et attirent les critiques de diverses parts. Facebook vient d'apporter sa voix au débat, en exprimant son désaccord avec Google. Mais c'est quoi déjà, cette neutralité du Net? Le concept est très simple, c'est l'égalité pour tous, version 2.0. Il s'agit, pour les fournisseurs d'accès à Internet (FAI), de traiter toutes les données de la même façon. Vous êtes un blog avec deux visiteurs (votre papa et votre maman) ou 20minutes.fr (où les papas et les mamans sont par ailleurs les bienvenus) c'est la même vitesse de débit. Net Neutrality and Eminent Domain. A Boston College Law professor says that "Net Neutrality" is unconstitutional in an upcoming paper, according to The Next Web.
According to Boston College law professor Daniel Lyons,The Federal Trade Commission's proposed net neutrality regulations might violate the Fifth Amendment. The basis of his argument rests largely on the principle of eminent domain, where if the government takes ownership of private property then the "owner" must receive what the courts call "just compensation" or in laymen's terms "fair market value. " So how does eminent domain apply to net neutrality regulations?
[Clubic] Neutralité : les services Web se préparent au débat | L. New U.S. Push to Regulate Internet Access.
---