Machete
Tout savoir sur Machete de Robert Rodriguez - Garanti sans spoiler ! Machete improvise.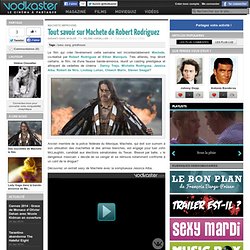 Le film qui crée l'événement cette semaine est incontestablement Machete, co-réalisé par Robert Rodriguez et Ethan Maniquis. Très attendu, trop diront certains, le film, né d'une fausse bande-annonce, réunit un casting prestigieux et attrayant de vedettes de cinéma : Danny Trejo, Michelle Rodriguez, Jessica Alba, Robert de Niro, Lindsay Lohan, Cheech Marin, Steven Seagal? Ancien membre de la police fédérale du Mexique, Machete, qui doit son surnom à son utilisation des machettes et des armes blanches, est engagé pour tuer John McLaughlin, candidat aux élections sénatoriales du Texas.
I Watch Stuff - New 'Machete' Trailer: Danny Trejo Versus Steve Seagal, with Machetes. Machete (film) The film also co-stars Robert De Niro, Jessica Alba, Don Johnson, Michelle Rodriguez, Steven Seagal, Lindsay Lohan, Cheech Marin and Jeff Fahey.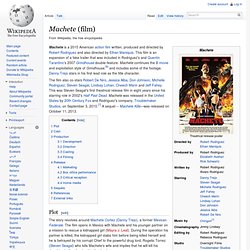 This was Steven Seagal's first theatrical release film in eight years since his starring role in 2002's Half Past Dead. Machete was released in the United States by 20th Century Fox and Rodriguez's company, Troublemaker Studios, on September 3, 2010.[7] A sequel -- Machete Kills—was released on October 11, 2013. Three years later, a down-and-out Machete roams Texas, scraping by on yard work. Michael Booth (Jeff Fahey), a local businessman and spin doctor, explains to Machete that corrupt Texas State Senator John McLaughlin (Robert De Niro) is sending hundreds of illegal immigrants out of the country. Robert Rodriguez's Machete Movie Trailer Slashes at Arizona Immigration Law. In the two short weeks since Arizona's controversial immigration law passed, protesters and supporters across the country have offered a flood of outraged sputtering and frenzied spinning.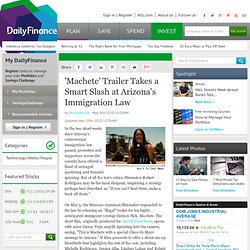 But of all the law's critics, filmmaker Robert Rodriguez may be the most eloquent, employing a strategy perhaps best described as, "If you can't beat them, make a buck off them. " On May 5, the Mexican-American filmmaker responded to the law by releasing an "illegal" trailer for his highly anticipated immigrant revenge-fantasy flick, Machete. The short film, originally produced for Ain't It Cool News, opens with actor Danny Trejo angrily squinting into the camera, saying, "This is Machete with a special Cinco de Mayo message to Arizona. "
Hey Arizona, Don't Fuck With This Mexican... MACHETE has some Cinco De Mayo words for you!!! Now in 720p! -- Ain't It Cool News: The best in movie, TV, DVD, and comic book news. Hey Arizona, Don't Fuck With This Mexican...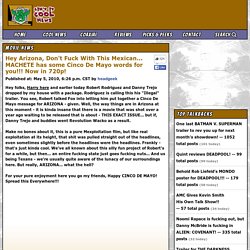 MACHETE has some Cinco De Mayo words for you!!! Now in 720p! Hey folks, Harry here and earlier today Robert Rodriguez and Danny Trejo dropped by my house with a package. Machete (2010) Edit Storyline The highly skilled Federale Machete is hired by some unsavory types to assassinate a senator.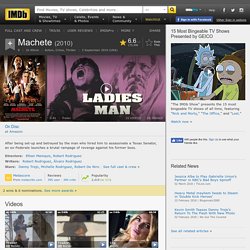 ---