Machete
Tout savoir sur Machete de Robert Rodriguez - Garanti sans spoiler !
I Watch Stuff - New 'Machete' Trailer: Danny Trejo Versus Steve Seagal, with Machetes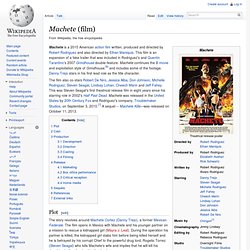 The film also co-stars Robert De Niro, Jessica Alba, Don Johnson, Michelle Rodriguez, Steven Seagal, Lindsay Lohan, Cheech Marin and Jeff Fahey.
Machete (film)
In the two short weeks since Arizona's controversial immigration law passed, protesters and supporters across the country have offered a flood of outraged sputtering and frenzied spinning.
Robert Rodriguez's Machete Movie Trailer Slashes at Arizona Immigration Law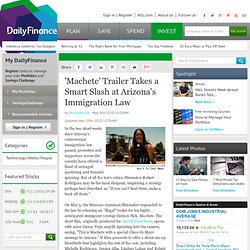 Hey Arizona, Don't Fuck With This Mexican...
Hey Arizona, Don't Fuck With This Mexican... MACHETE has some Cinco De Mayo words for you!!! Now in 720p! -- Ain't It Cool News: The best in movie, TV, DVD, and comic book news.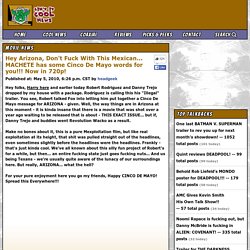 Machete (2010)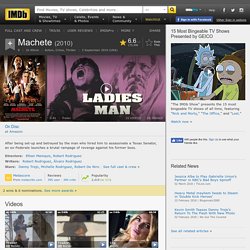 Edit Storyline The highly skilled Federale Machete is hired by some unsavory types to assassinate a senator.