Guerre 4chan-Tumblr
4chan Censors Itself
SExpand The notorious message board 4chan's young founder has fashioned himself as a champion of extreme free speech on the Internet. But blatant censorship is occurring on 4chan right now, after its users attacked a target too close to home. 4chan's founder, 22-year-old Christopher "Moot" Poole, defends his messy creation with pronouncements that "the greater good is being served" by having a place for unfettered, anonymous free speech on the Internet.
Operation Overlord - Encyclopedia Dramatica
4chan - Tumblr : la guerre a fait match nul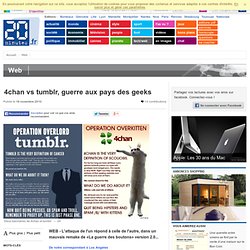 De notre correspondant à Los Angeles Internaute, choisis ton camp! La guerre fait rage dans l'interweb. A gauche, 4chan, un forum anonyme de partage d'images, pilier subversif de la sous-culture LOL, initiateur de nombreux mèmes, qui a fait la une des médias pour ses attaques contre la Scientologie, l'industrie du disque ou la pauvre Jessi Slaughter. A droite, le gentil tumblr, une plateforme de micro-blogging centrée sur le partage de liens, très prisée des geekettes branchées. Lundi, tumblr est resté inaccessible plusieurs heures.
4chan vs tumblr, guerre aux pays des geeks
Ce week-end, l'Internet nous a offert une de ces guéguerres dont il a le secret. Les membres irrévérencieux de 4chan ont en effet décidé de s'en prendre aux "mecs cools" de Tumblr. Plongée en apnée dans un monde de brutes. Hier 4chan était en Trending Topics sur Twitter. Ce qui n'est, généralement, pas bon signe. Que s'est-il passé?
4chan vs Tumblr: la guerre a bien eu lieu » Article » OWNI, Digital Journalism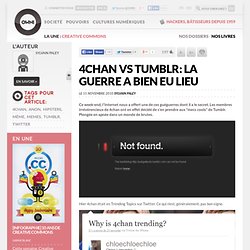 4chan Wages War on Tumblr: Whoever Wins, We All Lose (Updated)