Final Fantasy XIII
La fin d'une ère - Vidéo tirée de FINAL FANTASY XIV
Photo by soubi_
Square Enix prévoit d'organiser une conférence spécialement dédiée à Fabula Nova Crystallis le 11 janvier prochain au Japon. La société a profité de la courte vidéo de Final Fantasy Versus XIII et Agito XIII actuellement diffusée au Tokyo Game Show pour annoncer cet événement. Bien que les détails soient encore très limités sur cette conférence, on peut penser que les deux titres y seront présentés.
Final Fantasy World
Final Fantasy World
S'il est vrai que les différences entre les versions PlayStation 3 et Xbox 360 de Final Fantasy XIII ont fait un peu de bruit à l'époque de la sortie occidentale, les choses ont fini par se tasser avec le temps.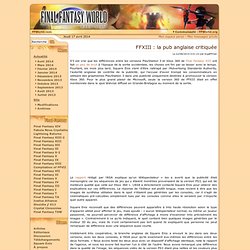 Yoichi Wada: "Some Are Not Very Happy With Final Fantasy XIII"
It's no secret that Square Enix's much hyped and long awaited Final Fantasy XIII wasn't that well received by many fans of the series. Depending on who you ask, FFXIII is considered to be the biggest disappointment yet for the franchise.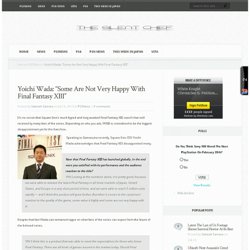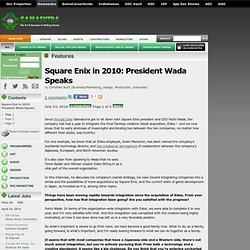 Since the last time Gamasutra got to sit down with Square Enix president and CEO Yoichi Wada, the company has had a year to integrate the Final Fantasy creators' latest acquisition, Eidos -- and we now know that its early promises of meaningful and binding ties between the two companies, no matter how different their styles, was truthful.
Features - Square Enix in 2010: President Wada Speaks
Features - Square Enix in 2010: President Wada Speaks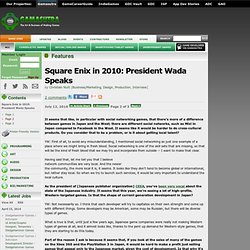 It seems that like, in particular with social networking games, that there's more of a difference between games in Japan and the West; there are different social networks, such as Mixi in Japan compared to Facebook in the West.
Features - Square Enix in 2010: President Wada Speaks
I don't know if you're familiar with OTX but it's a research firm, and it releases GamePlan , a list of purchase intent for the top 25 games in North America . Of the 25 games, only three of them are developed in Japan .