Facebook Places
De plus en plus difficile de mentir à ses proches sur Facebook
- Scène extraite d'Adultère mode d'emploi. © Ciné Manufacture, France 2 Cinéma, PXP Productions, Téléclub - Elle court elle court la rumeur, mais depuis mercredi 18 août c'est officiel: Facebook a lancé «Places» , un système qui permet aux utilisateurs d'indiquer leur situation géographique à leurs amis. Cliquez ici pour savoir comment désactiver cette fonction. Bon, je ne vous conseille pas de le faire tout de suite, mais on sait bien comment ça marche, avec Facebook.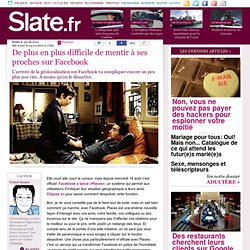 How to Disable Facebook Places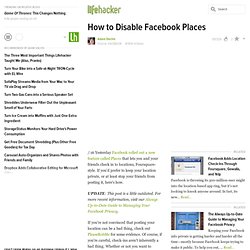 /:16 Yesterday Facebook rolled out a new feature called Places that lets you and your friends check in to locations, Foursquare-style. If you'd prefer to keep your location private, or at least stop your friends from posting it, here's how. UPDATE : This post is a little outdated. For more recent information, visit our Always Up-to-Date Guide to Managing Your Facebook Privacy . If you're not convinced that posting your location can be a bad thing, check out PleaseRobMe for some evidence.
Using Facebook Places
Facebook Places : la géolocalisation arrive sur Facebook
La conférence de presse de Facebook a débuté à 2h15 (plus tard que prévu). Le but de cette conférence était de dévoiler Facebook Places. Facebook Places permet d'indiquer quel est votre lieu préféré, l'endroit où vous vous trouvez et quels sont les amis qui sont avec vous. Si vous êtes déjà allé à un concert pour vous apercevoir ensuite que vos amis y étaient aussi, cela ne vous arrivera plus grâce à Places car vous pourrez découvrir immédiatement quels sont les amis qui se trouvent au même endroit que vous.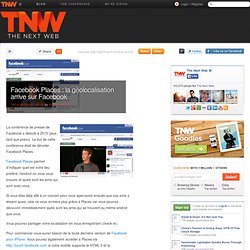 Who, What, When, and Now...Where
UPDATE on Friday, August 20, 2010 : Have questions about how to control your sharing through Places? We've created a video that explains our simple and powerful privacy settings. Watch it here . UPDATE on Thursday, August 19, 2010 : Places is slowly rolling out to all US users. If you have already downloaded the new version of the Facebook iPhone application or are accessing the touch.facebook.com, but are not yet able to check in, please try again soon. This will become available to everyone over the next few days.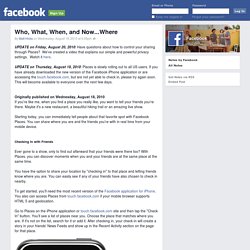 Videos posted by Facebook: Why to Check In? [HD]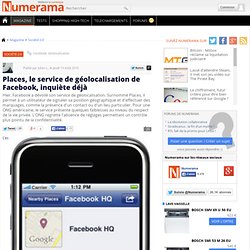 Ces dernières années, les critiques n'ont pas manqué pour fustiger la gestion calamiteuse de Facebook en matière de vie privée. Le réseau social créé par Mark Zuckerberg a souvent été accusé de faire passer ses intérêts avant ceux des membres, au risque de fragiliser la confidentialité de certaines informations personnelles. Devant la bronca des utilisateurs et des organisations de défense, le site web a cherché à se racheter une virginité, en essayant de regagner la confiance de ses membres . Facebook a donc multiplié les actions et les discours pour affirmer que jamais le réseau social ne trahira ses principes.
Places, le service de géolocalisation de Facebook, inquiète déjà - Numerama