US
Borders's History: The History of the Borders Group Chain of Bookstores. The Borders Group, Inc.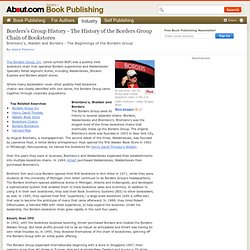 (stock symbol BGP) was a publicly held bookstore chain that operated Borders superstores and Waldenbooks Specialty Retail segment stores, including Waldenbooks, Borders Express and Borders airport stores. Where many booksellers--even other publicly-held bookstore chains--are closely identified with one owner, the Borders Group came together through corporate acquisitions. Brentano's, Walden and Borders The Borders Group owes its history to several separate chains--Borders, Waldenbooks and Brentano's. Brentano's was the longest-lived of the three bookstore chains that eventually made up the Borders Group. The original Brentano's store was founded in 1853 in New York City, by August Brentano, a newspaperman.
Book Sales Statistics - Amazon, Barnes&Noble and Borders Sales Numbers Annual Update. Subscribe to my publishing blog with weekly updates by Email The following current year information about book sales is taken from the annual reports, SEC filings and company press releases for the full year from Barnes&Noble, Borders, Amazon.com, and BN.com.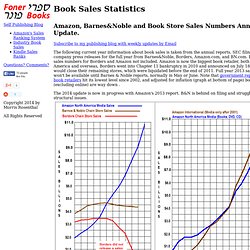 International sales numbers for Borders and Amazon not included. Amazon is now the biggest book retailer, both in North America and overseas, Borders went into Chapter 11 bankruptcy in 2010 and announced on July 18. 2011 they would close their remaining stores, which were liquidated before the end of 2011. Full year 2013 sales statistics won't be available until Barnes & Noble reports, normally in May or June.
Note that government reported sales for book retailers hit its lowest level since 2002, and adjusted for inflation (graph at bottom of page) bookstore sales (excluding online) are way down . Top Independent Book Distributors. These are the most up-to-date addresses we have for independent bookstore distributors.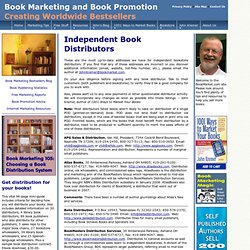 If you find that any of these addresses are incorrect or you discover additional information (email, website, toll-free number, etc.), please email the author at JohnKremer@bookmarket.com. Do your due diligence before signing with any book distributor. Talk to their customers (both publishers and bookstores) to verify they'd be a good company for you to work with. Top Ten U.S. Book Publishers for 2009. Every month, I review a set of market share reports prepared by one of our internal analysts.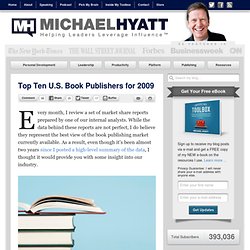 While the data behind these reports are not perfect, I do believe they represent the best view of the book publishing market currently available. As a result, even though it's been almost two years since I posted a high-level summary of the data, I thought it would provide you with some insight into our industry. Photo courtesy of ©iStockphoto.com/Deejpilot. Google Shakes Up the E-Book Market. Components/article_pagination.html not found (No such file or directory) It's finally here—now what?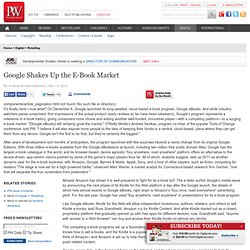 On December 6, Google launched its long-awaited, cloud-based e-book program, Google eBooks. And while industry-watchers parse consumers' first impressions of the actual product (early reviews so far have been lukewarm), Google's program represents a milestone in e-book history, giving consumers more choice and adding another well-funded, innovative player—with a competing platform—to a surging e-book market. "[Google eBooks] will certainly grow the market," O'Reilly Media's Andrew Savikas, program co-chair of the popular Tools of Change conference, told PW. Why Amazon Should Smile at Losing E-Book Market Share. Media reports on Tuesday seized on staggering numbers from Credit Suisse, predicting that Amazon's (AMZN) current 90% share of the e-book market will plummet to 35% over the next five years.
At face value, that sounds rather alarming. But look a little closer, and the prediction may really be a cause for celebration -- even for Amazon.Credit Suisse expects Amazon's share in the e-book market to drop to 72% by the end of this year, due largely to Apple (AAPL) and Google (GOOG). "Near term, we suspect that the iPad and the new eBook agency pricing model, which requires that Amazon increase retail prices to be more consistent with Apple's pricing, will provide Kindle with the most market share headwind," analyst Spencer Wang wrote in the report.
"Going forward, we can envision a scenario where Apple, Amazon, and Google eventually split the market. " That's obvious enough, but at the moment, the e-book market is still embryonic. USA : les ventes de livres électroniques explosent. L'association des éditeurs américains vient de rendre public les derniers chiffres concernant les ventes de livres électroniques aux Etats Unis.
Et le moins que l'on puisse dire c'est que le marché de la lecture numérique outre-Atlantique se porte bien. Les ventes ont en effet progressé de 115,8% entre janvier 2010 et janvier 2011 avec un chiffre d'affaire mensuel passant de 32,4 à 69,9 millions de dollars. Alors que les ventes globales de livres aux Etats Unis pour le mois de janvier s'élevaient à 805,7 millions de dollars, le segment du livre numérique est en passe de franchir la barre des 10% de parts de marché. Une progression vertigineuse qui tend à montrer que les efforts réalisés par Amazon, Google, Apple, Barnes & Noble et les éditeurs américains sont en train de porter le fruit.
La démocratisation du livre électronique aux Etats Unis ne fait que commencer, mais elle a le mérite de déjà exister… Repères : Les Etats-Unis, premier marché pour le livre numérique. A fin 2010, le marché du livre numérique a décollé en Allemagne, au Canada, en Espagne, aux Etats-Unis, en France, en Italie, au Japon et au Royaume-Uni, selon une étude de l'Idate.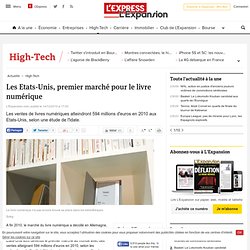 Les Etats-Unis sont devenus le premier marché au monde avec des ventes atteignant 594 millions d'euros en 2010, selon les estimations de l'institut d'études, plus modestes que celles de Forrester. Ils devancent le Japon, marché pionnier, à 527 millions d'euros. Les marchés européens demeurent relativement modestes mais enregistrent de fortes croissances, de l'ordre de 80 %. Cette migration numérique concerne tous les genres littéraires mais la littérature sentimentale, la science-fiction et le polar basculent plus rapidement, selon l'Idate, qui précise que d'ici 2014, "la transition numérique ne devrait pas provoquer globalement de destruction de valeur".
États-Unis: les livres numériques représenteront un marché de 3 milliards $US en 2015 - Actualités Techno-économie - Médias et Web.
---