Couleur
Plexus Series by Gabriel Dawe These massive ribbons of color are made from little more than thread, and from a short distance, the inventive installations seem to be floating. Gabriel Dawe is a young conceptual artist of Mexican origin who currently lives in Dallas – USA – where he is achieving his MFA in Arts and Technology at the University of Texas. His South American roots give a great influence to his works, colours are bright and vivid, as in the Plexus project, a series of installations that we can define optical, made with threads, nails and wood in a triumph of joy for the eyes.The sewing thread, the main material composing Plexus, is to create garments to protect the body from the weather.
Plexus Series by Gabriel Dawe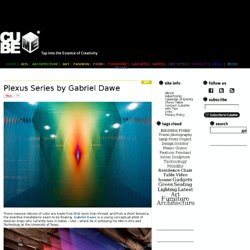 Galerie de AJ Fosik
Wim Delvoye - Gothic Works
KinderGarten in Granada, Spain by Alejandro Muñoz Miranda The kindergarten is characterized by colorful windows, the open, glass walls allow for more open group activities for the kids, and is arranged to be complementary to the outdoors- the playground in particular. The way the rooms and hallways are organized is revealed in the building's cross-section and longitudinal section. The architect creates the effects of compression and decompression of space that he was seeking by varying the height of the rooms on the basis of their function, the sun's path across the sky and the slope of the land. The compression-decompression game works for both longitudinal and transversal space sequences: corridor – classroom and access to the bathrooms – classroom – porch – garden – outside covered playground as well as classroom – bedroom – classroom.
KinderGarten in Granada, Spain by Alejandro Muñoz Miranda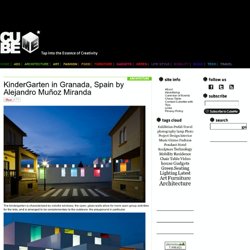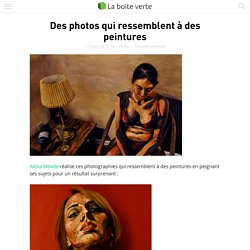 Des photos qui ressemblent à des peintures
La boite verte :) :o :'( :p :/ :D ಠ_ಠ <img src="/img/twitter.png" alt="Twitter La Boite Verte"/> <img src="/img/facebook.png" alt="Facebook Page La Boite Verte"/> <img src="/img/googleplus.png" alt="Google Plus Page La Boite Verte"/>
Suspended Structure
Electronics Made of Paper
struggle inc.®