Dans les arbres
I just spotted this crazy hanging treehouse, which looks like a cross between those uber 60′s hanging bubble chairs and an Ewok dwelling!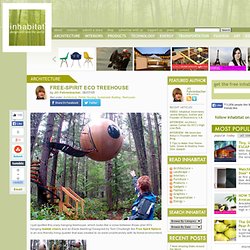 FREE-SPIRIT ECO TREEHOUSE
New Zealand's Whimsical Yellow Treehouse Restaurant
The new Yellow Treehouse Restaurant by New Zealand based Pacific Environments Architects Ltd. (PEL) is a stunning architectural feat perched high above a redwood first. Appearing for all the world like an enormous chrysalis grafted onto a 40-meter-high redwood tree, the project is constructed of plantation poplar slats, redwood balustrading milled at the site, and makes extensive use of natural lighting throughout.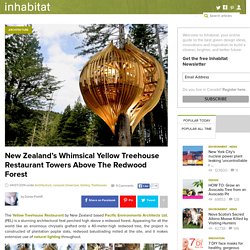 Tree House
Home
Rotational forces can be used to unfold an umbrella without any solid elements. The umbrella is made of a double membrane similar to a paraglider building a cavity. This cavity is connected to the ambient through air inlets near the axis.
AGENCE D'ARCHITECTURE GILLES EBERSOLT SARL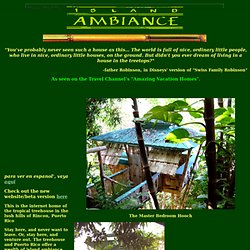 para ver en espanol', vaya aqui Check out the new website/beta version here This is the internet home of the tropical treehouse in the lush hills of Rincon, Puerto Rico
The Bamboo Treehouse
Birding Tower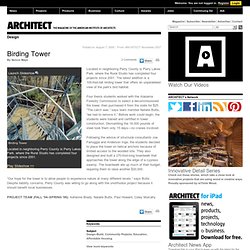 Located in neighboring Perry County is Perry Lakes Park, where the Rural Studio has completed four projects since 2001. The latest addition is a 100-foot-tall birding tower that offers an unparalleled view of the park's bird habitat. Four thesis students worked with the Alabama Forestry Commission to select a decommissioned fire tower, then purchased it from the state for $25. "The catch was," says team member Natalie Butts, "we had to remove it."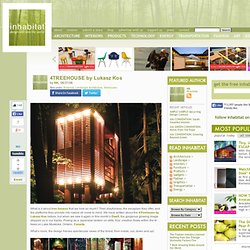 4TREEHOUSE by Lukasz Kos
What is it about tree houses that we love so much? Their playfulness, the escapism they offer, and the platforms they provide into nature all come to mind. We have written about the 4Treehouse by Lukasz Kos before, but when we saw it again in this month's Dwell, the gorgeous glowing image stopped us in our tracks.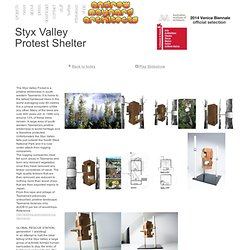 Styx Valley Protest Shelter
The Styx Valley Forest is a pristine wilderness in south western Tasmania. It is home to the tallest hardwood trees in the world averaging over 80 metres. It is a unique ecosystem unlike any other.