Social Learning Networks
Social media for teachers. TodaysMeet. Wallwisher. Social Learning Networks for Teachers and Students. The A to Z of Social Media for Academics.
This post accompanies the newly established 'Social Media News' email list for academics and university support staff, sharing info about the latest platforms for use by academics in their professional lives.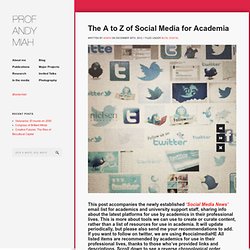 This is more about tools we can use to create or curate content, rather than a list of resources for use in academia. It will update periodically, but please also send me your recommendations to add. Personal Learning Networks Simplified for Teachers. We got several emails from our readers about an article we posted here earlier under the title : " A Simple Comprehensive Guide on The Use of Personal Learning Networks in Education ".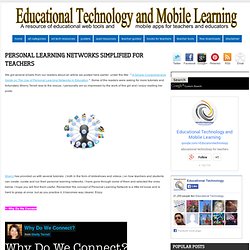 Some of the readers were asking for more tutorials and fortunately Sherry Terrell was to the rescue. I personally am so impressed by the work of this girl and I enjoy reading her posts. Sherry has provided us with several tutorials ( both in the form of slideshows and videos ) on how teachers and students can create, curate and run their personal learning networks. I have gone through some of them and selected the ones below. 20 Tips for Creating a Professional Learning Network. Networking is a prime form of 21st century learning.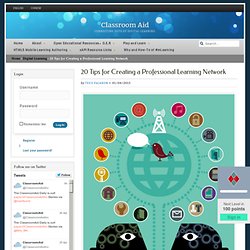 The world is much smaller thanks to technology. Learning is transforming into a globally collaborative enterprise. Take for example scientists; professional networks allow the scientific community to share discoveries much faster. Just this month, a tech news article showcased how Harvard scientists are considering that "sharing discoveries is more efficient and honorable than patenting them." This idea embodies the true spirit of a successful professional learning network: collaboration for its own sake. LiveBinders. RubiStar Home. Bit.ly. QR-Code Generator.
Ning. Classroom 2.0. ScuttlePad. Everloop. Edmodo. Twiducate. Twitter. How to Twitter in 60 Seconds. Our Educational Twitter section here in Educational Technology and Mobile Learning is growing bigger and bigger.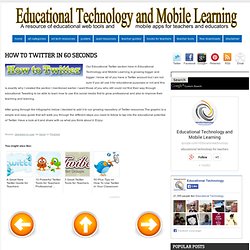 I know all of you have a Twitter account but I am not sure if you all use it for educational purposes or not and this is exactly why I created the section I mentioned earlier. I want those of you who still could not find their way through educational Tweeting to be able to learn how to use this social media first to grow professional and also to improve their teaching and learning.
After going through the infographic below I decided to add it to our growing repository of Twitter resources.The graphic is a simple and easy guide that will walk you through the different steps you need to follow to tap into the educational potential of Twitter. Twitterfall. Paper.li. Google+ Skype. Facebook. My Fake Wall.
---