Politics
State and Local Corruption
Rich Bullies - Koch and others
Congress, Congressional News, Fiscal Cliff, Sequestration & Latest News
Why is he/her a Candidate?
Long List Of Curious Coincidences In Obama's Life, which someone emailed to Ben Fulford | Alternative
Unconstitutional Excesses
Brain structure differs in liberals, conservatives: study
Brain structure differs in liberals, conservatives: study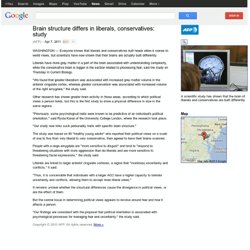 Welcome to Politix - Take a stand & Be heard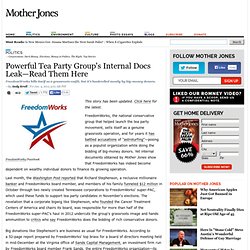 Powerful Tea Party Group's Internal Docs Leak—Read Them Here
This story has been updated. Click here for the latest. FreedomWorks, the national conservative group that helped launch the tea party movement, sells itself as a genuine grassroots operation, and for years it has battled accusations of "astroturfing" —posing as a populist organization while doing the bidding of big-money donors. Yet internal documents obtained by Mother Jones show that FreedomWorks has indeed become dependent on wealthy individual donors to finance its growing operation. Last month, the Washington Post reported that Richard Stephenson, a reclusive millionaire banker and FreedomWorks board member, and members of his family funneled $12 million in October through two newly created Tennessee corporations to FreedomWorks' super-PAC, which used these funds to support tea party candidates in November's elections.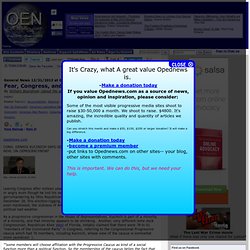 Fear, Congress, and Denial
Rep. Dennis Kucinich, D-Ohio Leaving Congress after sixteen years (1997-2013), Rep. Dennis Kucinich does not sound bitter or angry even though he lost his seat to a fellow Democrat, thanks to some nasty gerrymandering by Ohio Republicans.
Top Stories - Federal Judge Halts Indefinite Detention of Suspects without Trial
A new law authorizing indefinite detention of terrorism suspects, including American citizens, has been permanently blocked by a federal judge. U.S. District Judge Katherine Forrest this week followed up on her earlier ruling in May, when she issued a preliminary injunction denying the Obama administration the power to enforce a key provision of the 2012 National Defense Authorization Act (NDAA). President Barack Obama had signed the bill into law on New Year's Eve, barely two months after Forrest, an Obama appointee, assumed office. One paragraph in particular, Section 1021(b)(2), allows the U.S. military to hold anyone accused of having "substantially supported" al-Qaeda, the Taliban or "associated forces" until "the end of hostilities." Forrest said the U.S.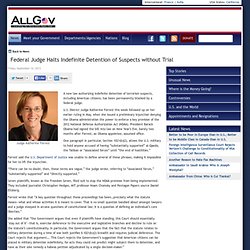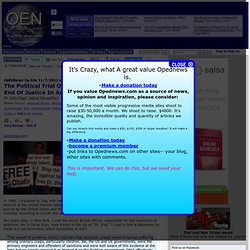 In 1999, I travelled to Iraq with Denis Halliday who had resigned as assistant Secretary-General of the United Nations rather than enforce a punitive UN embargo on Iraq. Devised and policed by the United States and Britain, the extreme suffering caused by these "sanctions" included, according to Unicef, the deaths of half a million Iraqi infants under the age of five. Ten years later, in New York, I met the senior British official responsible for the imposition of sanctions. He is Carne Ross, once known in the UN as "Mr. Iraq." I read to him a statement he made to a parliamentary select committee in 2007:
The Political Trial Of A Caring Man And The End Of Justice In America
These Tuesday evenings will each begin with an update and analysis of major economic events of the last month and their contexts of longer-term economic trends shaping politics and society here and abroad. We will focus on the evolving global capitalist economic crisis and its consequences. We will examine topics such as
Global Capitalism - A Monthly Update & Discussion
2010report-pennsylvania.pdf (application/pdf Object)
We created a list of the Top 10 documentaries selected by our Facebook community and we also included the links where you can watch all these documentaries for FREE . For a complete list of all the documentaries available on our site, please visit our documentaries section. The Movie is a 2007 documentary film by Peter Joseph. It asserts a number of conspiracy theory-based ideas, including the Christ myth theory, alternative theories for the parties responsible for the September 11th attacks and that bankers manipulate the international monetary system and the media in order to consolidate power.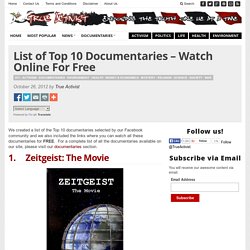 The Man Who Would Have Been President: Martyr for the People, Ten Year Since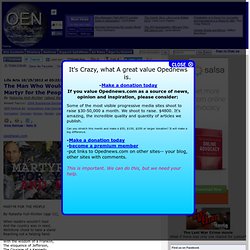 By Natasha Hull-Richter (age 11), When leaders wouldn't lead And the country was in need, Wellstone chose to take a stand Reaching out a helping hand. With the wisdom of a Franklin, The eloquence of Jefferson, The Courage of a Kennedy, He fought for peace for you and me.
unnamed pearl
Israel Bolshevism Zionism Rockefeller
This special one click action page is brought to you by OpEdNews.com and The People's Email Network (P.E.N.). It will submit your personal message on the issue above to your local daily newspaper as a Letter to the Editor as determined by your address, as well as to both of your senators and your house representative if you like all at once. You can even select exactly who you want your message to go to. Nothing is transmitted but your own inputs as entered into this form, together with the position statement above in red for the congressional recipients. For members of Congress you can use this form even if you have nothing additional you want say on the subject, as an expression of your stand on the issue.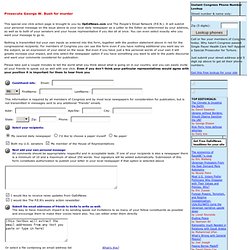 Write your members of Congress and your local daily newspaper
Ballot Box II: Pastors Defying IRS In Telling People How To Vote On "Pulpit Freedom Sunday"
brought to you by GOD! by Google Images w/caption by Rev Dan But Will They Pay To Play? ( Peter Montgomery, Religion Dispatches )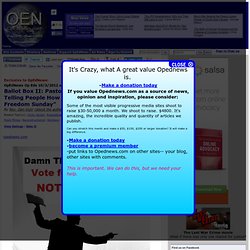 Red Ice Members
Some of the applications (below) may be for the same A rticle V application, even though the application may appear on a different date and/or page of the Congressional Records. This is NOT an attempt to inflate the total number of A rticle V applications, but merely an effort to display ALL A rticle V applications. It is often difficult to determine whether subsequent A rticle V applications are to reaffirm a previous application, or a new A rticle V application.
Friends of the Article V Convention - Congressional Records
Green Party of the United States
The Greens/Green Party USA
To meet the challenges of growing the Greens we need to raise funds to pay for literature, public events, rent, and other expenses. Here's how you can help! Join the Greens/Green Party USA: Join Online with a Credit Card!
Program: CPT12 Presents Episode: 9/11: Explosive Evidence - Experts Speak Out Over 40 experts in high-rise architecture, structural engineering, metallurgy, chemistry, physics, explosives, and controlled demolition share their professional expertise and insights about the events of 9/11.
Global Research Editor's note As September approaches, we are reminded that the anniversary of the tragic events of 9/11 will soon be upon us once again. 11 years later, are we any closer to the truth about what really happened on that fateful day? For the next month until September 11, 2012, we will be posting on a daily basis important articles from our early archives pertaining to the tragic events of 9/11.
9/11 Attacks: Criminal Foreknowledge and Insider Trading lead directly to the CIA's Highest Ranks
Posted by clnews _Featured_ , Politics Wednesday, July 25th, 2012 Michael Snyder Activist Post Every single day more Americans fall into poverty. This should deeply alarm you no matter what political party you belong to and no matter what your personal economic philosophy is. Right now, approximately 100 million Americans are either "poor" or "near poor".
100 Million Poor People In America and 39 Other Facts About Poverty That Will Blow Your Mind
FDA-Big Pharma Fraud-Conspiracy - Cancer Industry Lies About Mammograms & Chemo
Customer Discussions: Global warming is nothing but a hoax and a scare tactic
LBJ Killed JFK... American History and Politics
New York Attorney General Targets Chamber Of Commerce In Tax Fraud Investigation
Results | PennEnvironment Research and Policy Center
FDD's Clifford May: Syria Has Nothing to do with Humanitarian Concerns
Homepage
Talk:Monsanto
Dutch tv news show Zembla investigates 9/11 theories (English subs)
Corexit chemical dispersant used by BP during Gulf oil disaster linked to horrific human injuries
CIA PAPER
Mike Philbin's Free Planet blog
If Monsanto Were a Person
Organic Consumers Association: Millions Against Monsanto
No More Fake News
CIA analysis and intelligence on American and international relations – Lignet.com-
Washington DC: FBI Foils Own Terror Plot (Again)
National Memo | Breaking News, Smart Politics
National Geographic Thermite Whitewash Debunked
Public Interest Organizations to Address Closed-Door Negotiation of International Intellectual Property Agreement in Los Angeles
KeepTheWebOpen.com
| Illuminati News | Illuminati and New World Order - Unfortunate Choice of Terms
Wes Penre on Spiritual Solutions
US Can Extradite UK Student For Copyright Infringement, Despite Site Being Legal In The UK
Homeland Security Works For Disney Now? Announces Shut Down Of Movie Sites At Disney